What to Wear for Family Photos
It's never easy to decide what to wear for family photos. ESPECIALLY when you are being photographed for the first time as a family. However, planning what to wear for your family photo session can be very fun if you just follow a few simple guidelines.
The most frequently asked questions we receive as family photographers are about what to wear for family photos. After all, a family portrait session is a momentous occasion!
It can be intimidating to think about what to wear for family photos that you will cherish for years to come. I am sure we all have an embarrassing photo proudly on display from decades past, with less than charming fashion choices.
Not to worry! With a little planning, you can dress in a way that won't look really dated to you 10 or 20 years from now like the example pictured below:
Finding a color scheme or at least a general theme is very important. While you don't want everyone to be wearing the same exact outfit – it is more aesthetically pleasing to coordinate everyone's attire around a general theme or color scheme. For example, try to think of a color or pattern that you like and go from there. Keep in mind that it's important to stay true to your family's personalities because you want your family photos to capture your unique and beautiful family. And be sure that you and your family is comfortable in what they are wearing.
And a few things to keep in mind before you plan what to wear for family photos:
Don't stress too much over the details.
Don't stress.
Stressing about clothing is not recommended.
You're going to love your family photos because the people that you love are in them. And with a little planning and your photographer's talent, your portraits will look fantastic.
Start With Inspiration
If you have a piece of clothing, outfit or mood board that you already love then that is a great place to draw inspiration from when thinking about what to wear for family photos. If you need a little help with inspiration then look on Pinterest for some ideas and color scheme inspiration.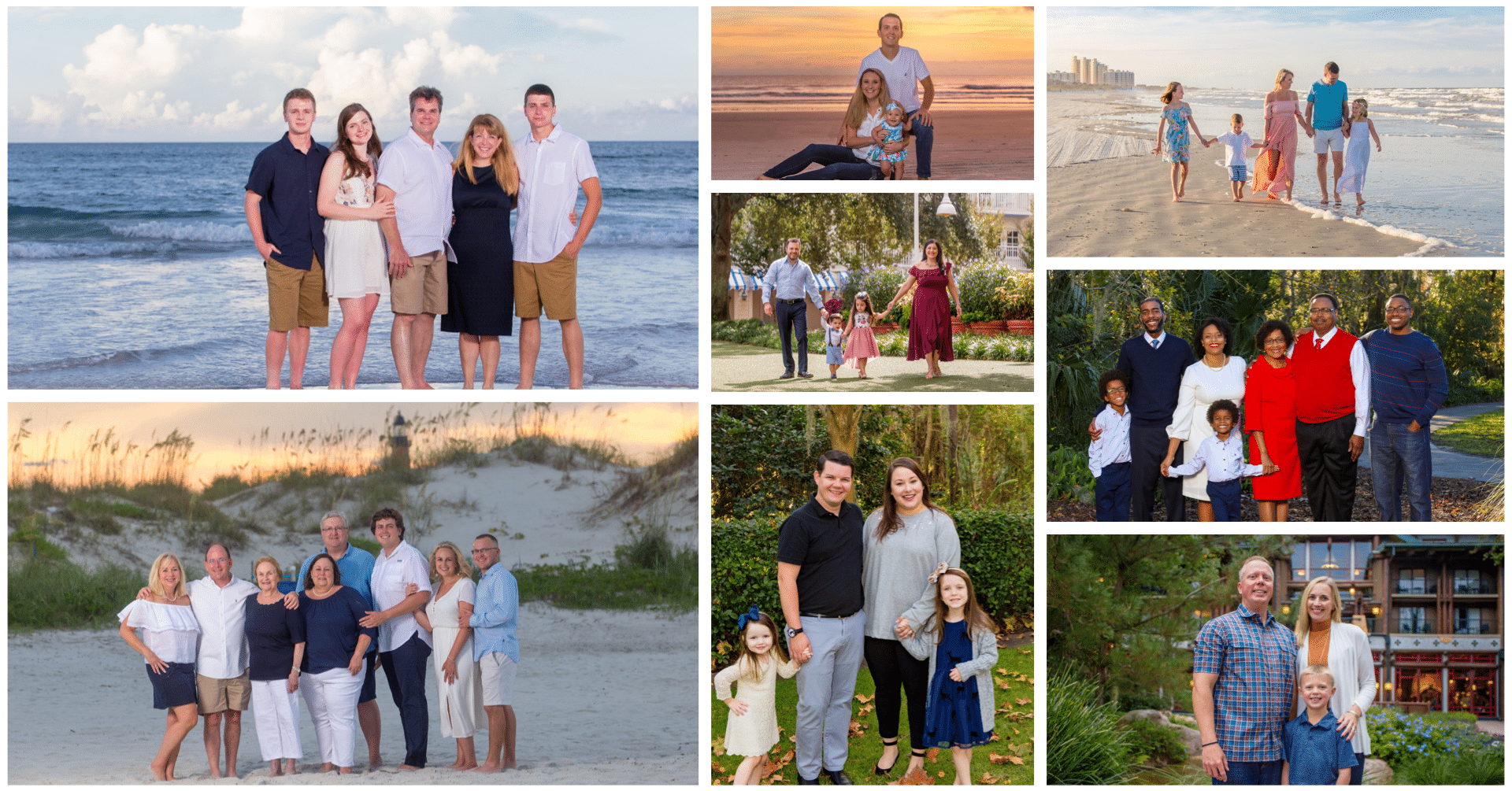 Color Scheme
When deciding on a color scheme, it is important to consider a few factors: location, season and how many people are being photographed.
As photographers near Orlando, we photograph a lot of extended families during their vacation to Disney World or Florida beaches. It can be more challenging to dress multiple families because there are more people and more varying styles.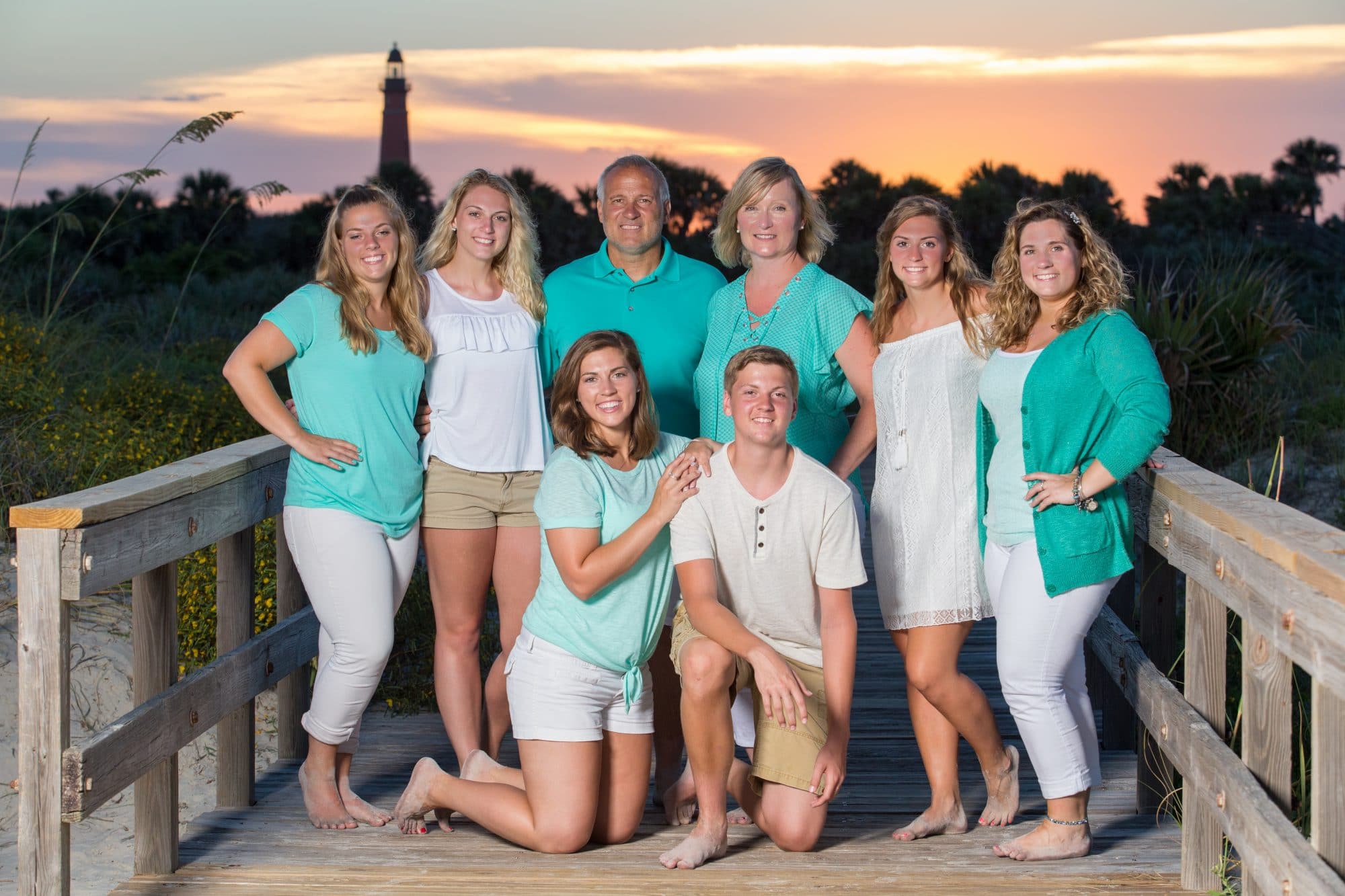 I always recommend sticking to color schemes with 2-3 colors for families. This keeps things more simple and it makes a unified appearance more achievable. Complementary color schemes work very well if you want to keep things simple.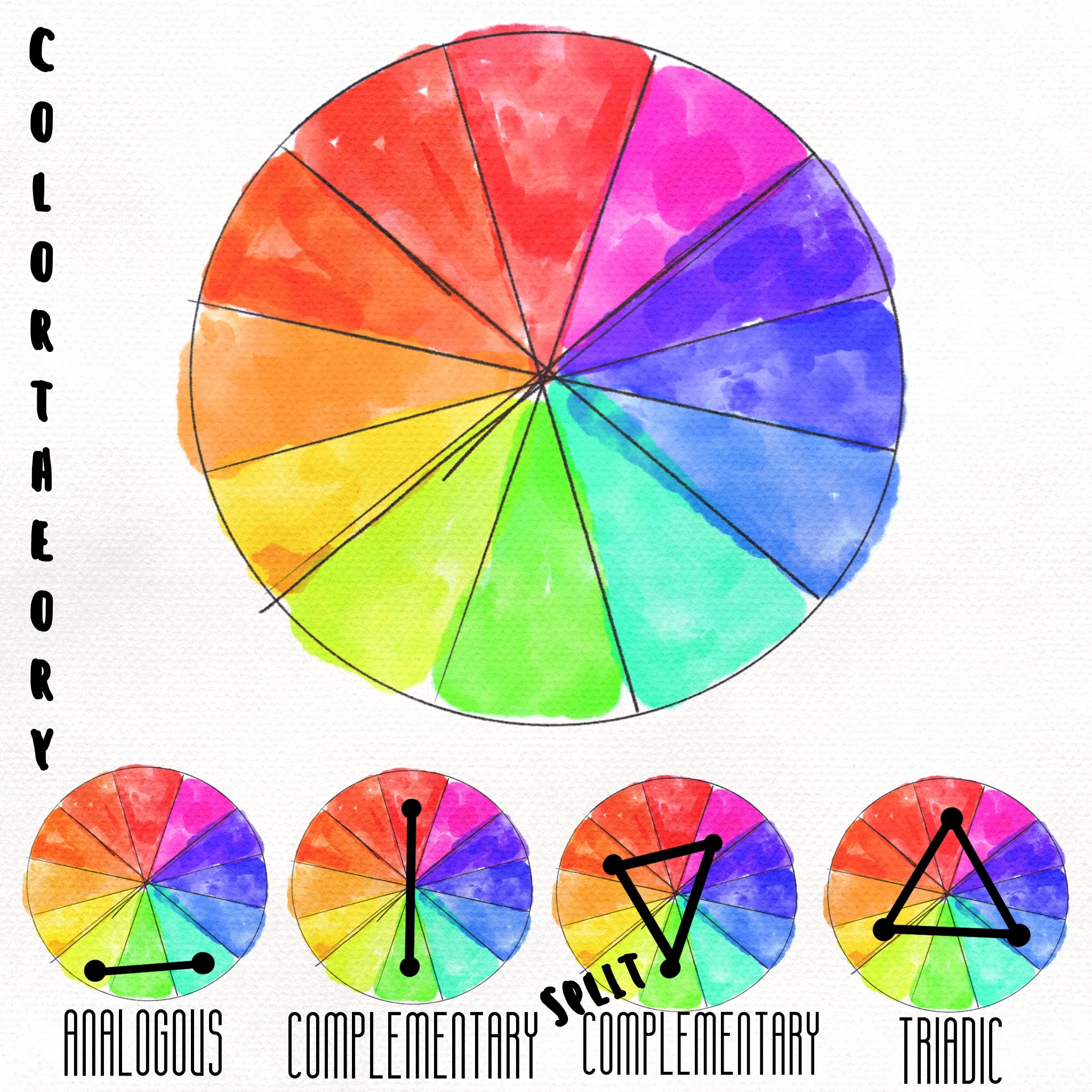 You should always incorporate neutrals in your clothing choices. Adding neutral tones will help enhance your color choices and it also opens up more options. For example, if your color scheme was navy and light blue then beige and white would make great additions to your wardrobe.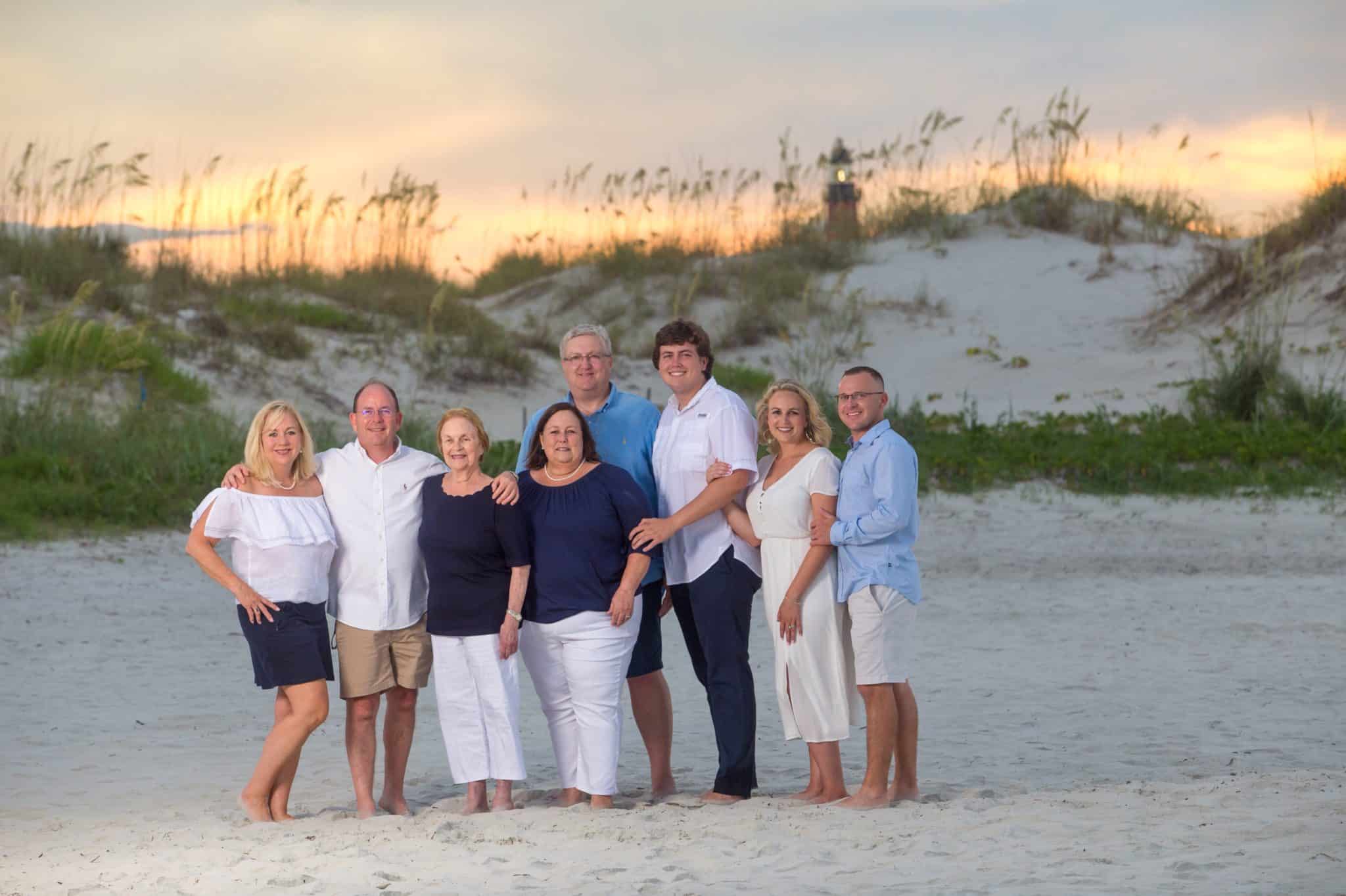 Our favorite complementary color scheme is blue and shades of brown. You can see how well these tones pair with each other in the photo below. See how wonderful the color scheme looks at the Wilderness Lodge Disney resort?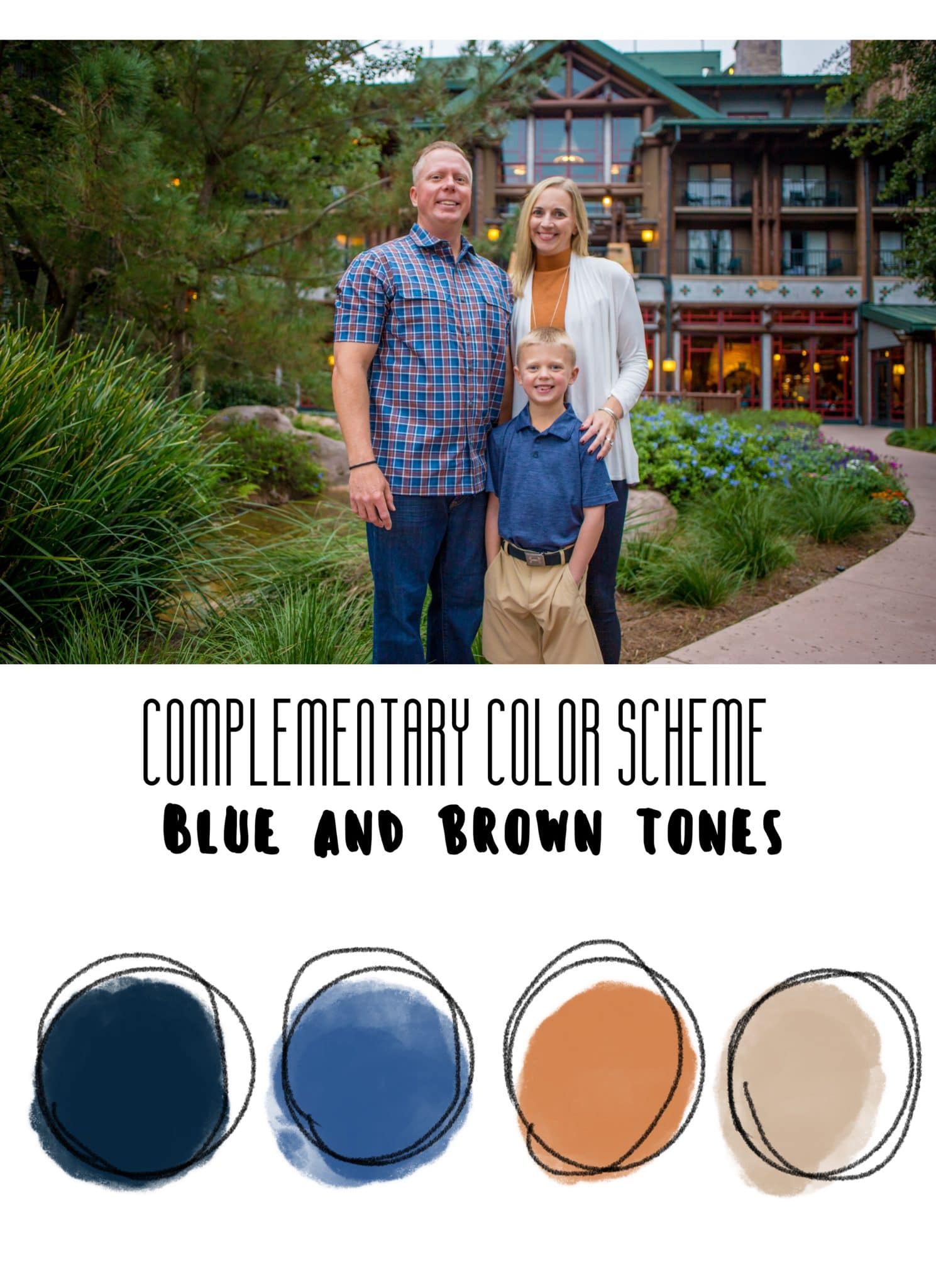 When looking for what to wear for family photos, you can easily add pops of color with accessories like:
Hats
Necklaces

Scarves

Belts

Shoes

Hair accessories
For example, if your extended family is dressing in navy and light blue then someone could wear a white sun dress with a navy blue sun hat and a necklace to tie in nicely with everyone else.
Be sure to balance colors, patterns and texture really well so that you don't end up matching too much. A nice balanced approach to color will result in a unified look for the whole family that is aesthetically pleasing. It's helpful to envision how you will be grouped for family photos as well, if you are being photographed with your extended family.
I highly recommend that you don't make your entire family wear the same outfit. It's so much more fun and personable to let each family member add their own touches to the theme.
Sometimes I feel like the phrase "location, location, location" should apply to photography more than it does. The location of your family photos is another important factor to consider when planning what to wear for family photos.
When we photograph portraits at one of our favorite Disney resorts, The Boardwalk, we love recommending bright colors because they compliment the environment really well.
When our beach portrait clients ask what to wear for family photos, we usually recommend shades of blue because we love the way blue compliments the bright orange sunset.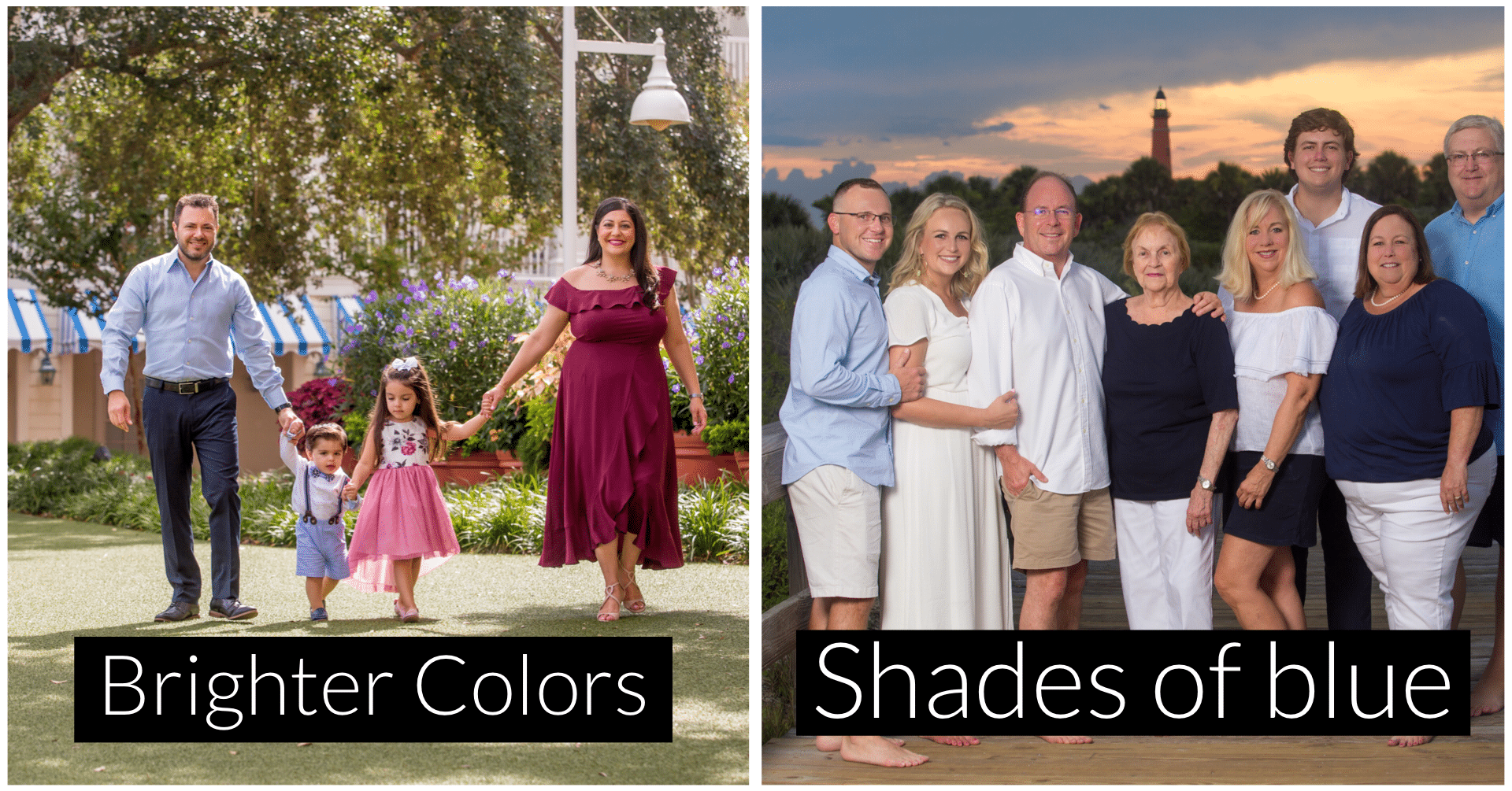 If you are planning what to wear for family photos at an outdoor location then you will also need to consider the season. If you are going to be photographed with fall foliage then sage green and warm neutrals would look wonderful. True blue and gold tones would look amazing in fall foliage as well.
Different color scheme examples
You don't need to be Picasso to know which colors pair well together for family photos. Below are some color palette ideas that work very well for family portraits. Have fun with it! As long as you put some thought into your color choices, it will look wonderful.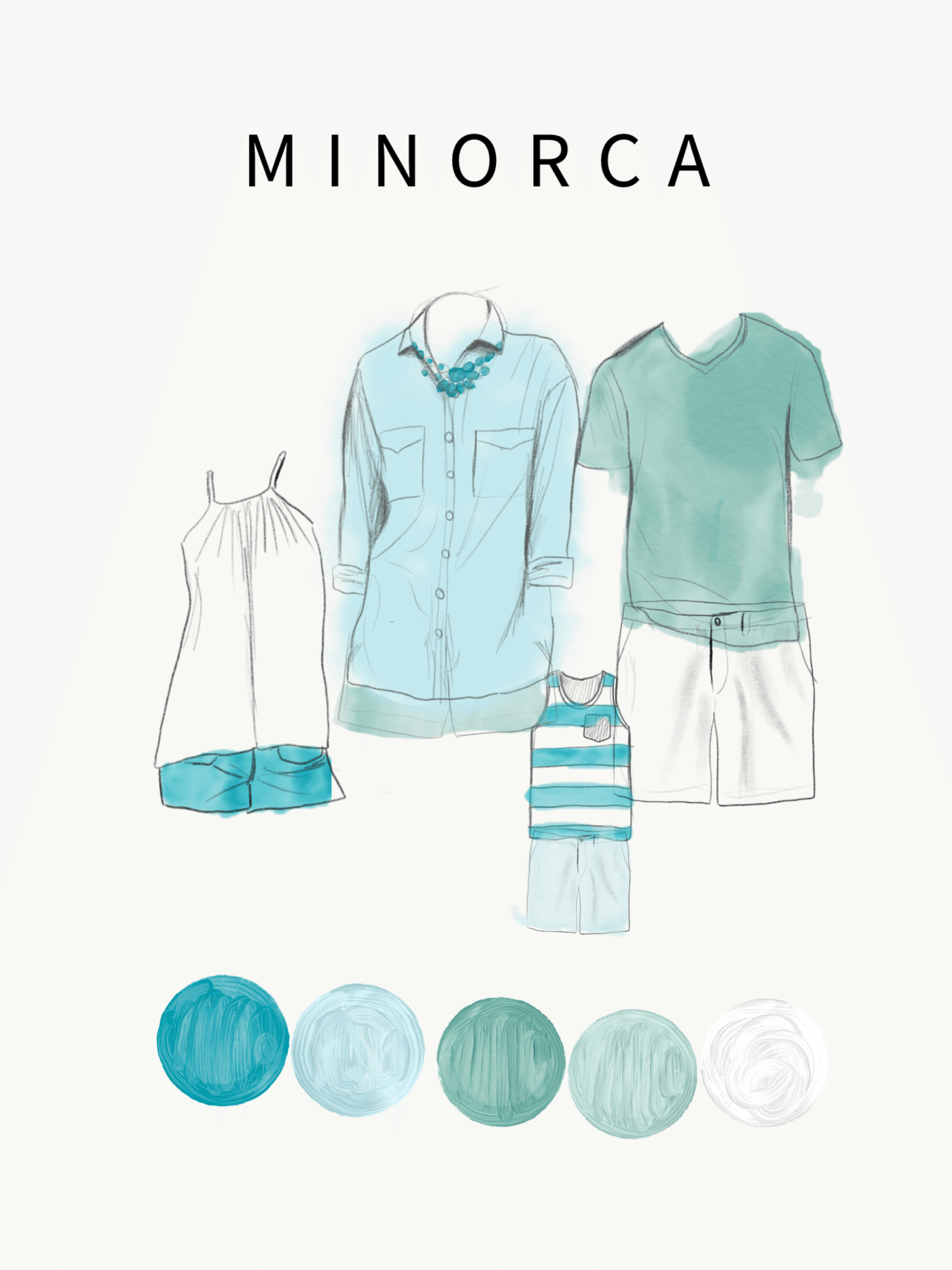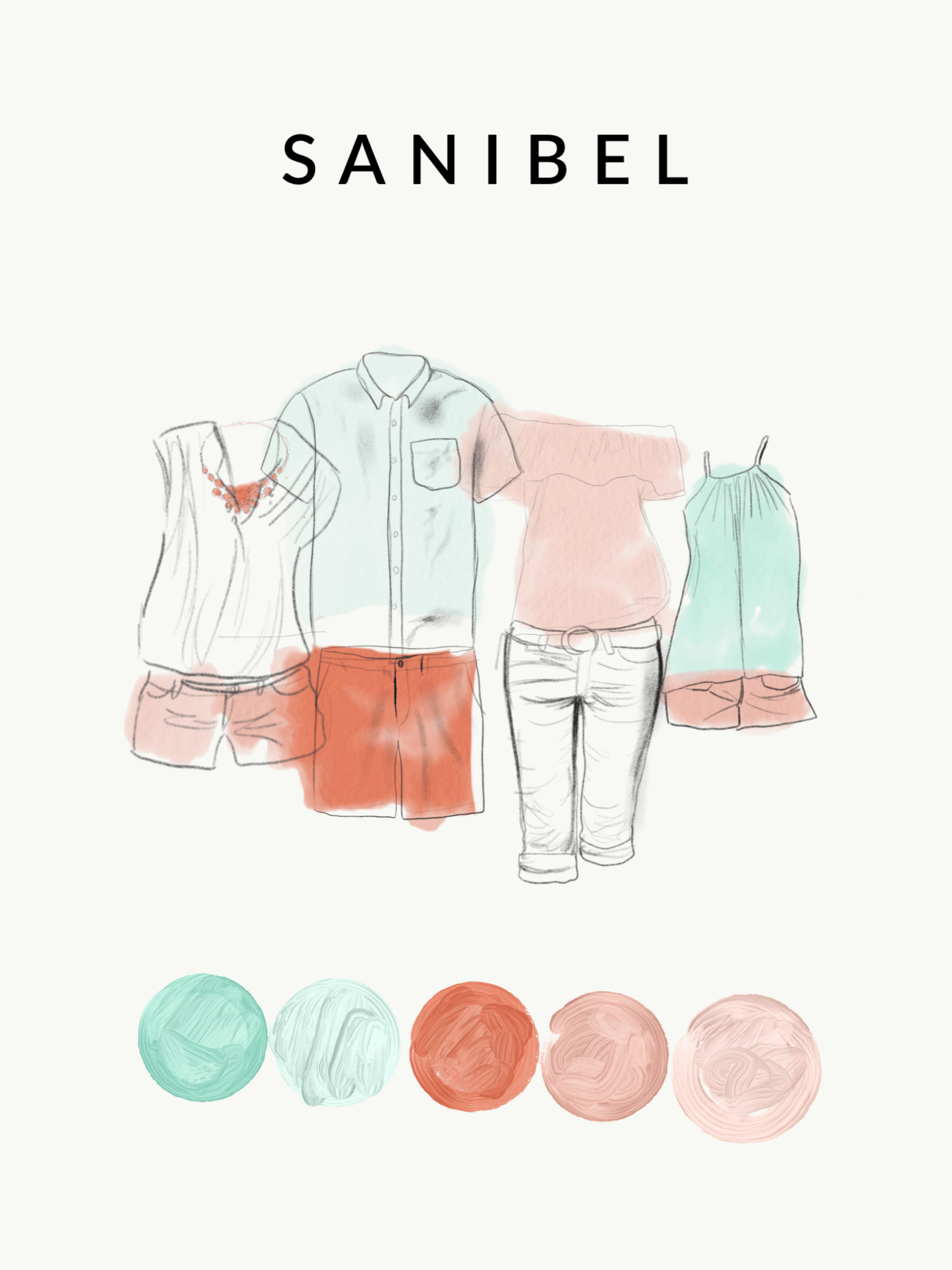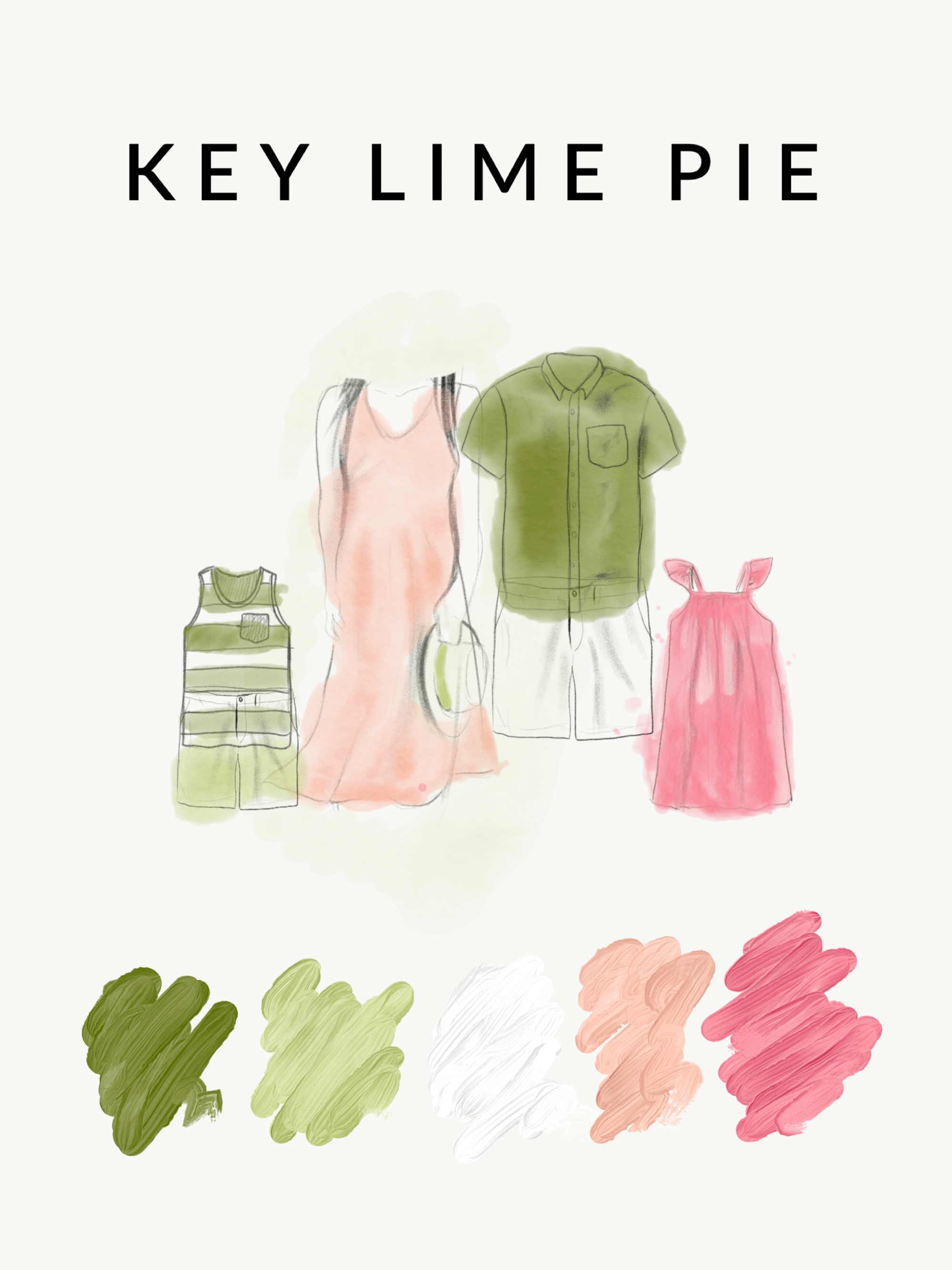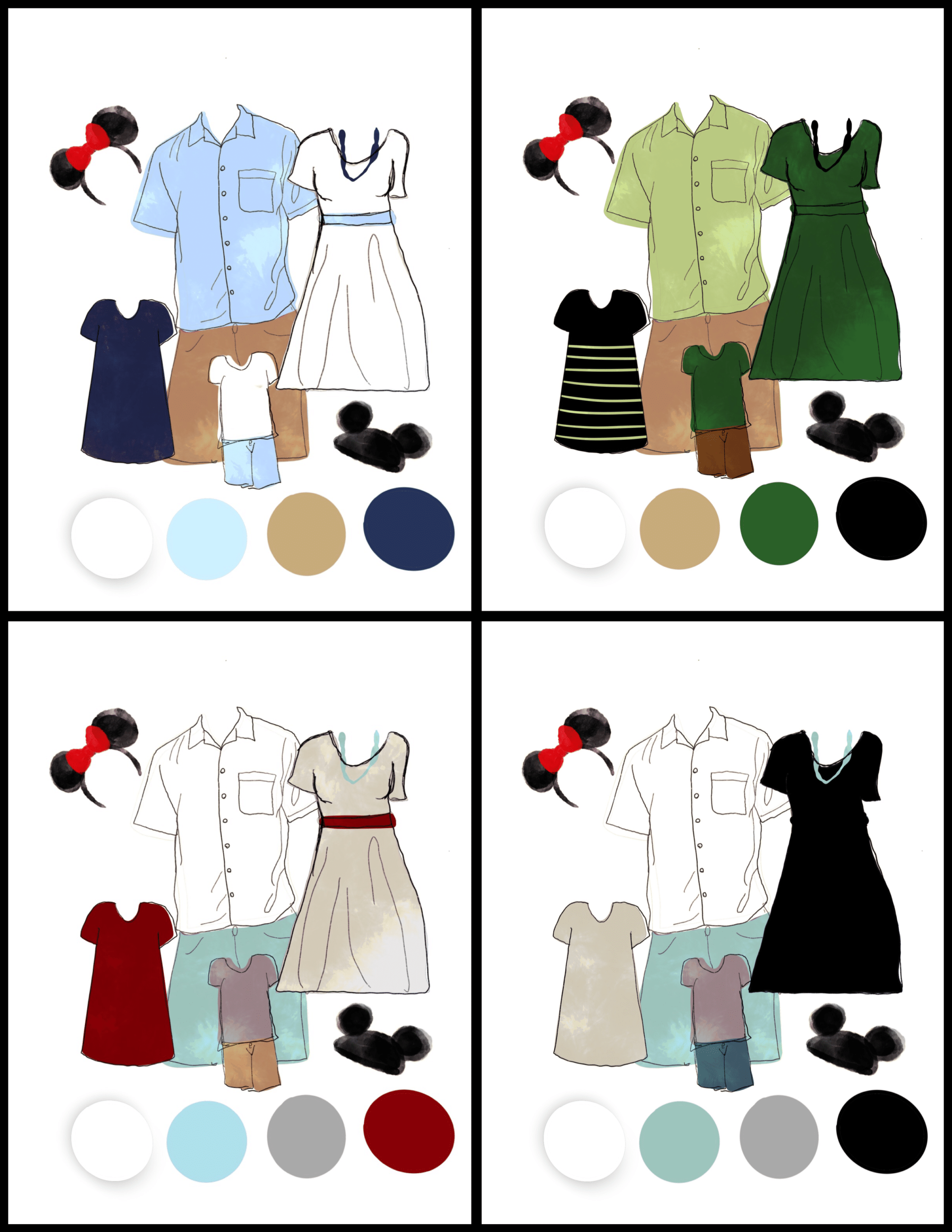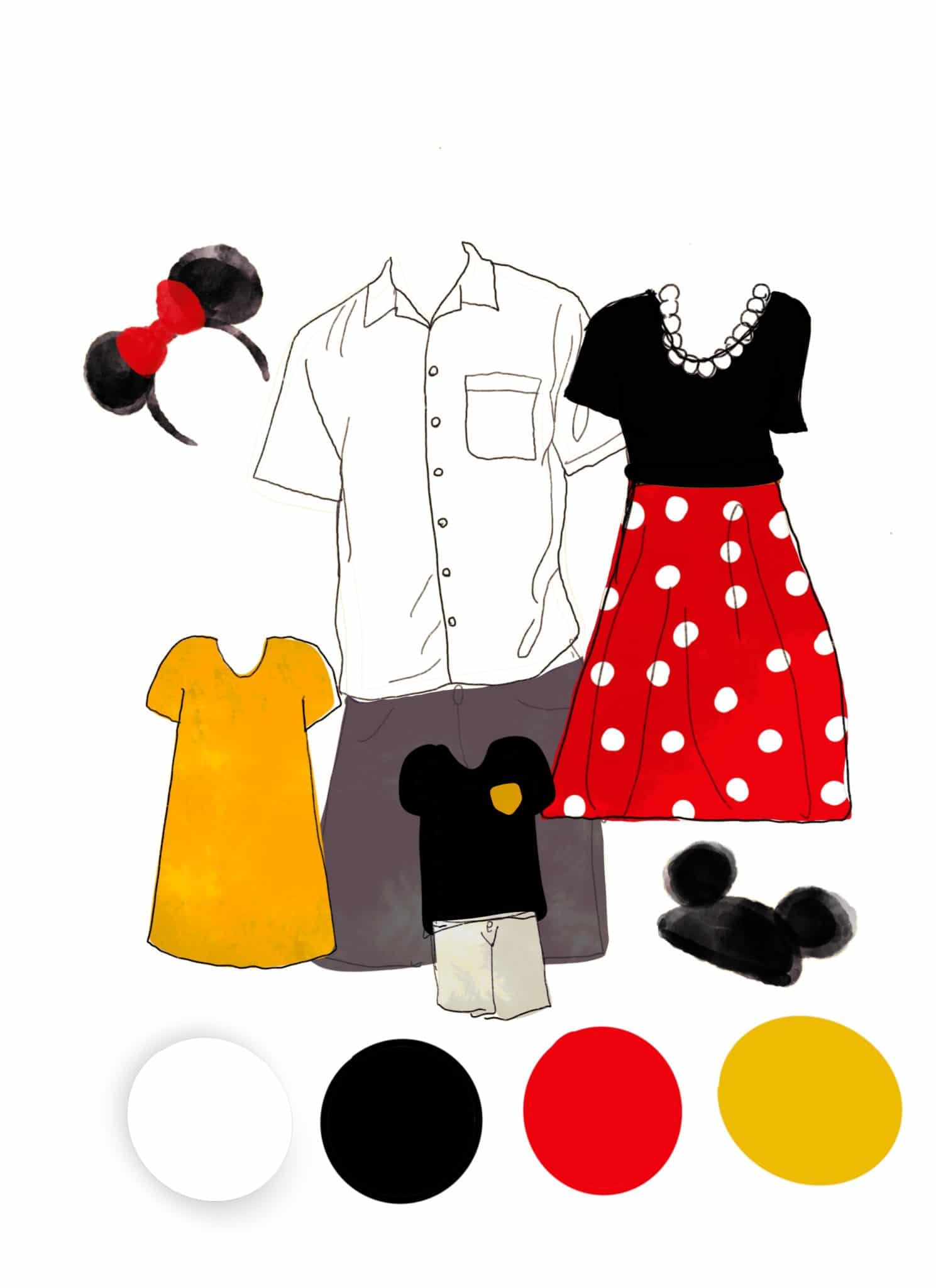 Types of clothing to wear for family portraits
When considering what to wear for family portraits, think timeless. Choose classic styles that stand the test of time. Do you remember the early 2000's when everyone was wearing velvet track suits? That is a great example of an outfit that is not timeless.
Avoid large logos and graphic tee shirts. The focus should be on your family and bold graphics can be distracting. I love yoga pants as much as anyone but try to avoid athletic looking clothing for family portraits.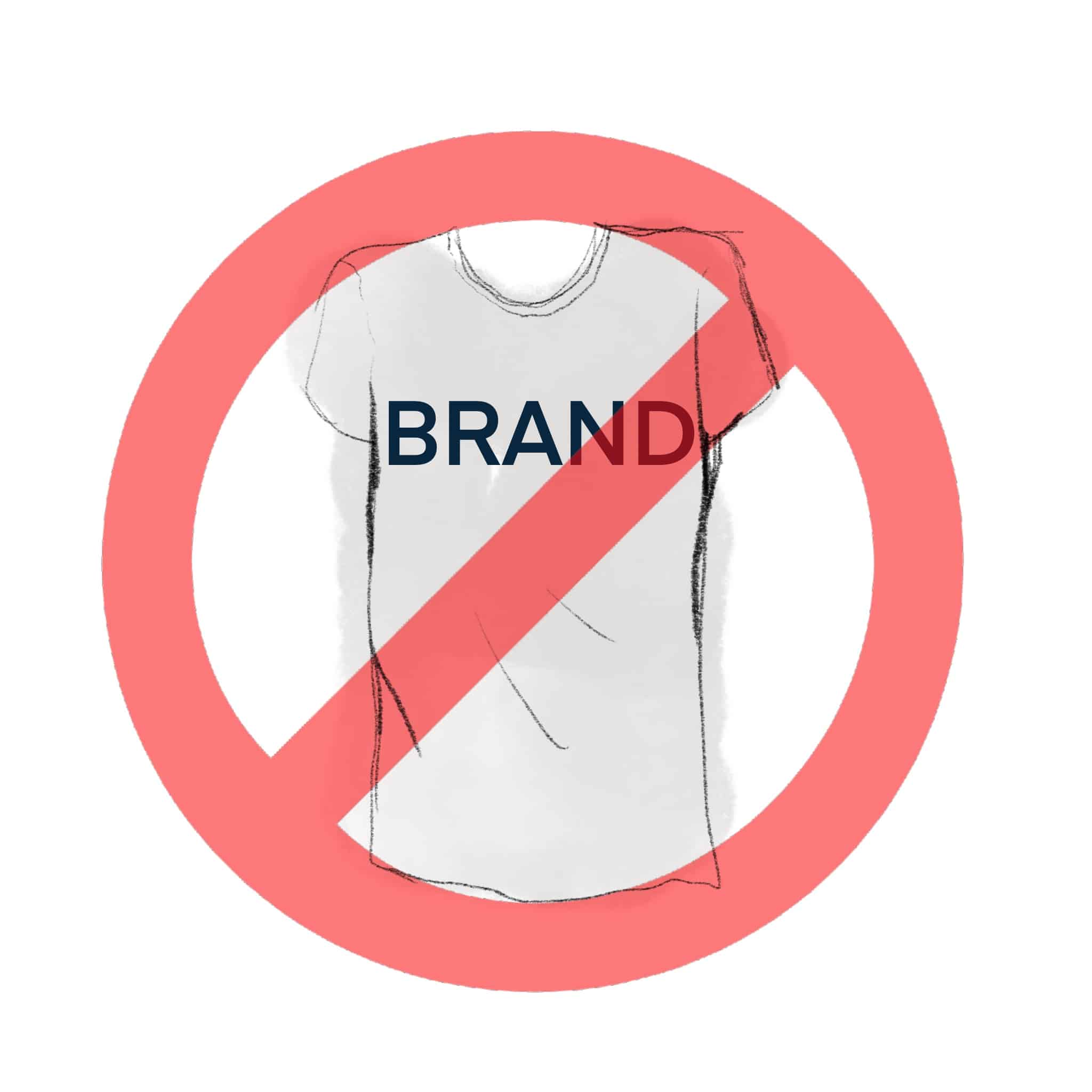 Wear clothes that fit comfortably and are not too tight or loosely fitted. You want to feel amazing in the outfit that you are rocking for your family portraits.

You can't go wrong with these classic styles:
Button up dress shirts
Little black dress
Chino Shorts
A-line swing dresses
Dark wash denim jeans
Classic cardigan

Khaki pants or shorts
Avoid:
baggy pants
Camouflage

Cargo shorts
Trendy patterns
Fluorescent colors or reflective clothing
If you have little ones or teenagers, try your best to find clothes that they are excited about. If they hate wearing a certain type of clothing, maybe find something different that you can both agree looks nice. Having happy kids makes portrait sessions more enjoyable and relaxing for everyone.
What shoes to wear for family photos
And again, the shoes you choose to wear depend on: location, location, location.
For family beach photos, it's easy because families have their toes in the sand for beach portraits.
However, when it comes to any other location: shoes matter.
If you will be walking a lot then avoid uncomfortable foot wear. Flats are amazing for portrait sessions because they are so versatile and come in a million different colors and styles. For men, a nice neutral pair of casual dress shoes will complete their outfit perfectly.
Back to the athletic wear, running shoes, hiking boots, crocs and teva sandals are shoes you should avoid wearing for family photos.
Accessories to pay attention to
Here are a few accessories that can be distracting and forgotten about for family photo sessions:
Hair ties

Ball caps

Keys
Cell phone sticking out of pocket
Sunglasses on shirt

Fitbit

Cell phone clip
Pacifier clip or pacifier
While some accessories should be put away there are others that you may need to think about. For example. If you wear transition glasses then you should try to bring a different pair that do not have transition lenses.
Another big thing to look out for is under garments sticking out like bra straps or underwear. Make sure clothes fit nicely to avoid any mishaps.
If you have a family member that is always wearing a hat, remind them to keep it off that day. You probably don't want a baseball cap on during photos and if they take it off right before then they may have a serious case of hat hair.
How should you wear your hair for family photos
Again, location matters. If you are going to be photographed outdoors then try not to choose a hairstyle that requires a lot of upkeep.
I personally have a lot of hair, so I have found that keeping it simple works best for me. For example, beach sessions can be windy. As new Smyrna beach photographers, we learned that wind is usually just something we have to deal with when we are by the ocean. Loose waves work well outdoors for longer hair. An intricate updo with lots of hairspray, however, does not work well on the beach.
Loose braids also work quite well in outdoor locations because braids look great and aren't high maintenance. Plus, they do a good job of keeping hair in place if it is windy.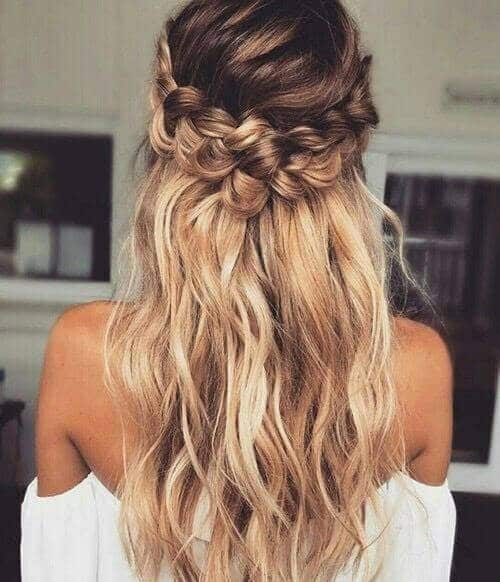 Some handy things to have on hand:
anti-frizz serum
Hair brush
Hair products you like using
If you style your hair with products, bring them along just in case you would like to touch up your hair. I don't recommend worrying too much about your hair during the shoot because that could be distracting and time intensive.
Items to bring along:
baby wipes or tissues
stain remover
lip gloss or lip stick (if you are wearing make up)
hair ties or bobby pins
hair brush or comb
If you are wearing heels, think about bringing some flats to rest your feet while walking
water
snack for the little ones
For the little ones,
extra clothes
baby wipes
snack and water/juice
favorite toy or blanket
Check out our baby beach essentials list for more tips on what to bring to the beach for baby.
Things to avoid:
wearing sunglasses
getting too much sun before your shoot
scheduling your session during your child's nap time
getting a last minute hair cut
stressing the day of your shoot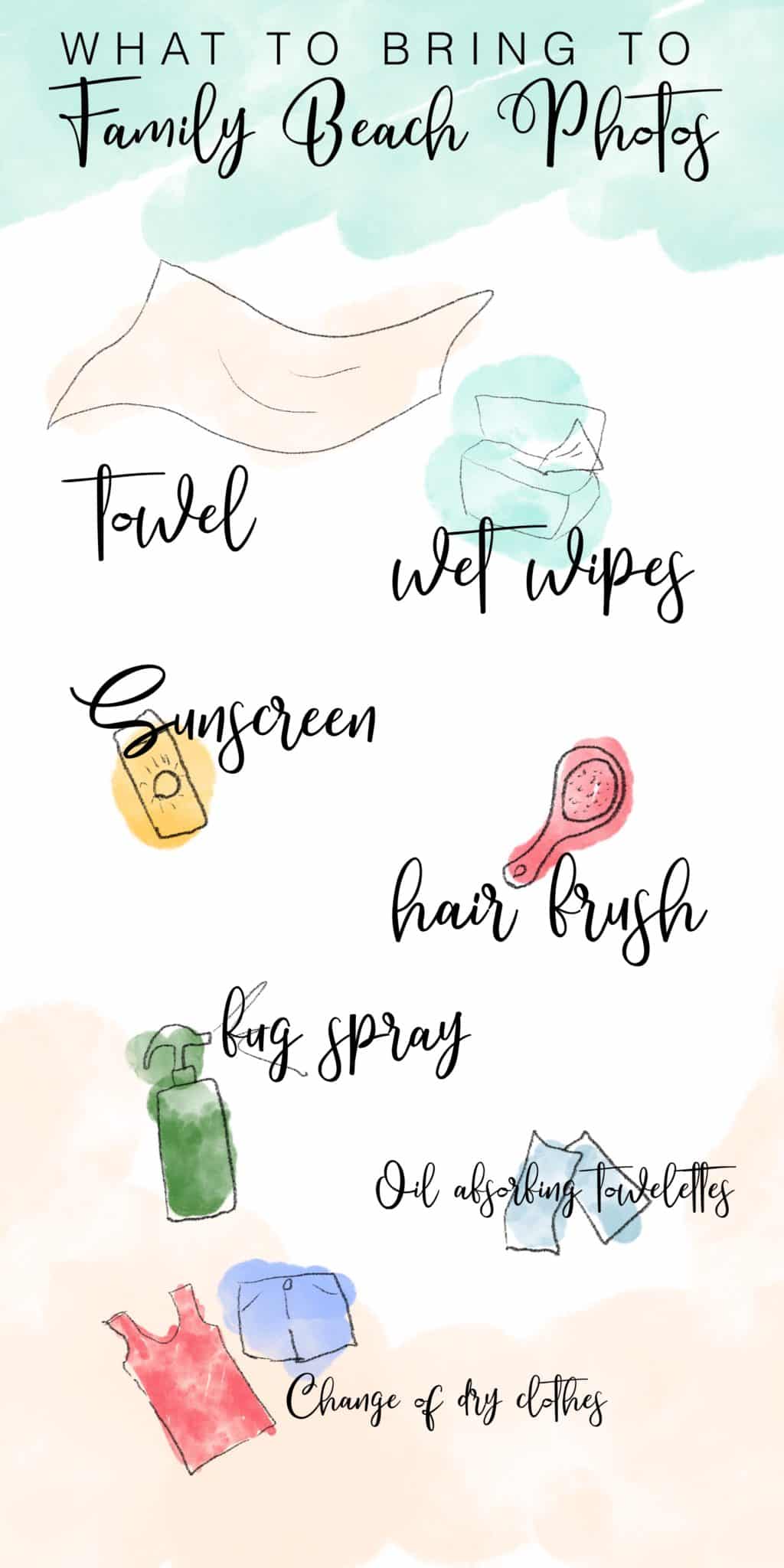 Preparing children:
Make sure you talk to your children about your photo session and why it's important to you. If children understand the importance of something they may be less likely to misbehave.
Explain the importance of smiling and looking at the camera to your children so that they are already well aware of what to expect.
Understand that it is okay if your children get bored or cranky and need to take a break during your session – the last thing you need to be doing is getting stressed out. Just relax and let the photo session flow naturally.
Let the photographer give direction. If you are focusing on telling everyone to smile, wiping faces and fixing posture then you are not looking and the camera and posing. The last thing you want is a photograph that all of the children are smiling in while you aren't looking at the camera. Photoshop can always fix errors but it's much better to get it right in camera.
Most importantly give your children a reason to be excited about getting their picture taken. Photo sessions can be boring but there are ways to make them more fun for children. Tell them to say something funny or personal in place of "cheese"
Enjoy planning for your family portraits
Now you can go shopping and have fun picking out clothes for your family portrait session. We made a wardrobe guide that goes over some tips for how to prepare for family photos below.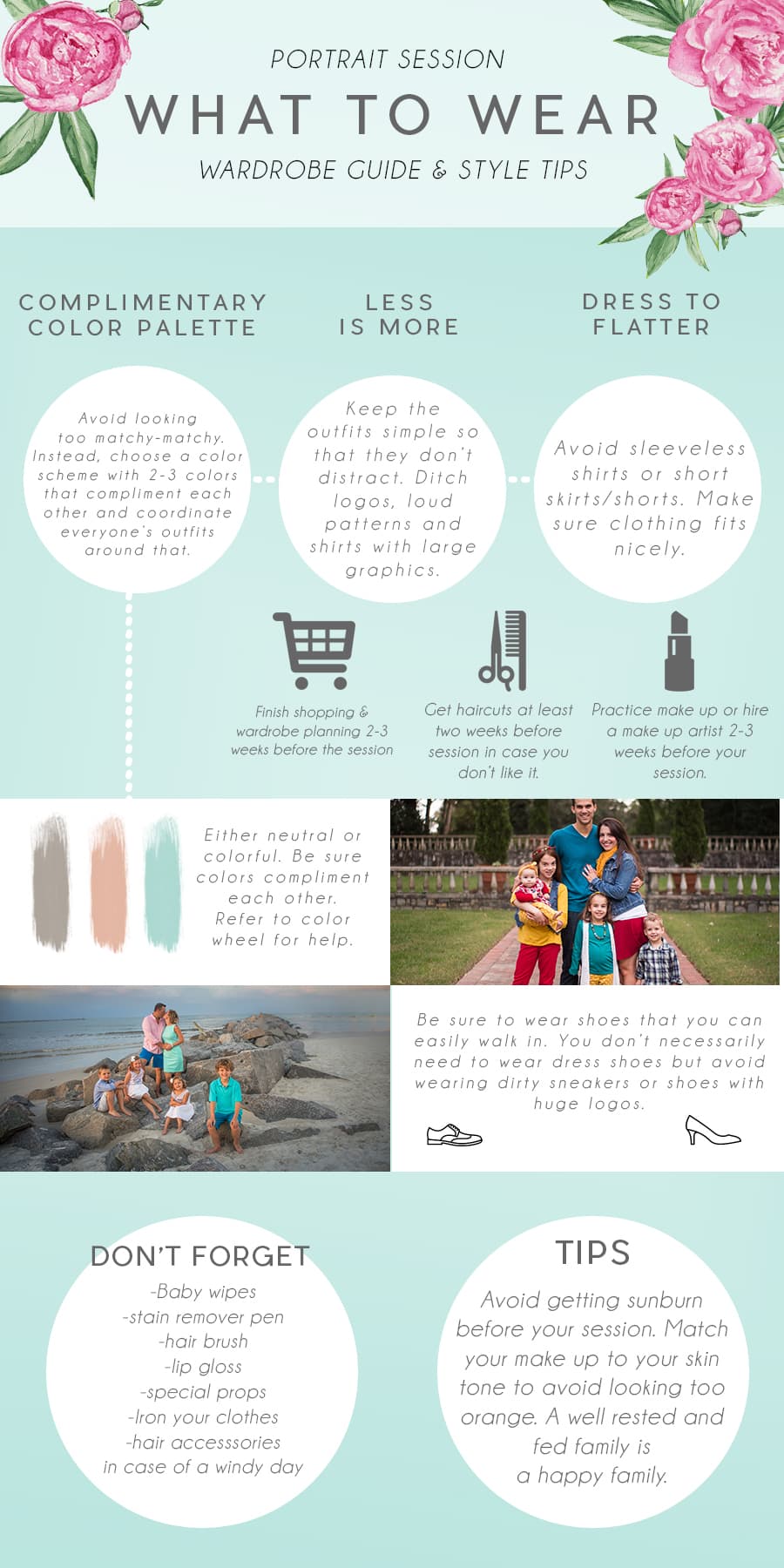 If you have any ideas or poses that you have drawn inspiration from the feel free to share these ideas with your Photographer. Getting a glimpse of your style and what you plan to wear helps us get to know more about you and makes it easier for us to produce work that it more unique to your family.
If you are looking to have family portraits done during your Florida vacation then feel free to reach out to us!
Hinson Photography is located in beautiful New Smyrna Beach and there are plenty of great locations to choose from. Daytona Beach photography offers a wide range of stunning outdoor backdrops to choose from. Whether you would like to be photographed in Orlando or in the Daytona beach area – we have -referred locations all over Florida for amazing vacation portraits.