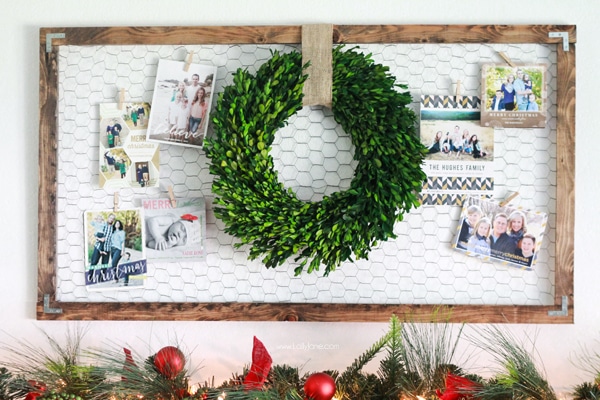 The Holidays are quickly approaching and Thanksgiving is in a few days. With 2016 coming to a close, we will all be reflecting on the year we have had and looking forward to 2017. As we all prepare for Christmas day, we can expect to be receiving plenty of adorable Christmas cards from family and friends. I love looking at how much everyone has grown each year and our fridge can quickly get pretty busy.
This year I have been delving into some more creative ways to store and display our favorite Christmas cards. Jon tends to laugh at me about this but I am pretty particular about keeping specific cards, for all occasions. I appreciate the thought that goes into them and I like to keep card boxes with special ones. What I like about Christmas cards is that they can easily be added to an album or display.
As Orlando photographers that specialize in family portraits we stay busy delivering Christmas cards each year. So much thought goes into the design, print and portrait selection that I hate to think of them sitting in drawers or even worse, being thrown out! Which is why I want to share some really unique holiday card projects to display them throughout your home and ways to keep the special ones after the holidays are over.
I have seen so many creative displays like this recently and I absolutely love the addition of Christmas lights in this version, made by Melanie Ladue, to make it even more festive. This could be a fun craft project. If you aren't the crafty type, you can also find similar frames in home decor stores.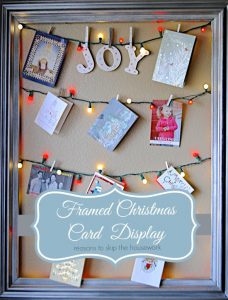 This is a great way to showcase your lovely cards and it's also a great way to declutter the fridge, double win! You could even add in a few 4×6 prints from your holiday portrait sessions to dress it up. Head on over to Reasons to Skip the Housework to learn how to make this fun project!
There are many ways to apply this concept, like this chicken wire display from Lolly jane. It's full of rustic charm and totally unique. I love the wreath that embellishes this display, looks so fresh and natural.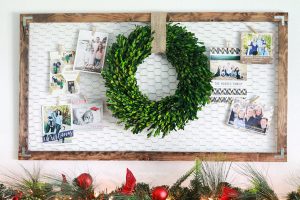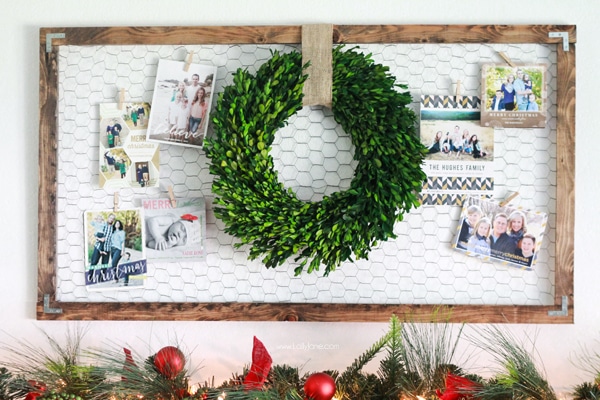 As you can see there are many ways to create this look, and it all depends on your personal taste. It's a fun and festive way to make sure those beautiful Christmas cards don't go to waste! Check out Country Living for a more in depth look at different Christmas card display ideas.
Christmas Card Album
If you are more interested in storing your Christmas cards then a Christmas card album or keepsake box is a wonderful alternative. Picking up a small 8×8 scrapbook or small album that fits 5×7 prints is an easy way to keep your favorite Christmas cards organized.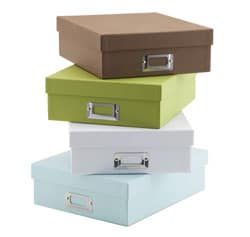 The best part about this is that you can flip through them each year and keep them on your shelf for guests to peek through. Another way to do this is with a simple photo box that you can pick up at your local home decor or craft store. Stop by Spirals & Spatulas to see how she keeps her Christmas cards in a scrapbook!
Christmas Card Wreath
This is a really fun alternative for displaying your Christmas cards and it involves a really adorable wreath.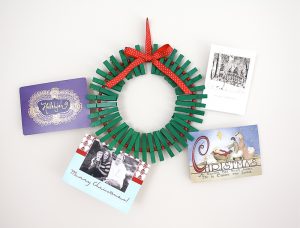 Again, if you enjoy crafty projects then take a look at this awesome tutorial by jess at Craftiness is not an option. This is such a unique idea that will definitely impress your guests! I feel like this is also a really amazing way to display seasonal photos. You could make one for every holiday and display your favorite 4×6's, like for Easter or Halloween.
There is also a not-so-crafty alternative that is just as cute, it's also pretty neutral, so it can be used all year long with small photos.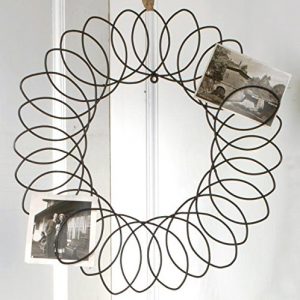 Whether you choose to display seasonal photos, cards, or just some of your favorites memories, I think this is a great purchase. Head on over to Amazon and purchase this adorable photo display wreath.
Christmas Ornaments
Another easy way to creatively utilize your Christmas card collection this year is to hang them on your tree. Now, there are many ways to do this. You can simply hole punch them and hang them on your tree, as they are, with a string. Or, you can get a little more elaborate and craft artistic ornaments with them. You can even really just place them in between the branches of your tree and they will likely stay in place.

If you want to fill up your wall with some cheery decor then you will absolutely swoon over this adorable wash tape tree display by Thyme and Honey.
This a brilliant way to showcase your Christmas cards and seasonal photos. You could even add Christmas fairy lights if you want to make it really stand out.
Similarly, you could add your Christmas cards to garland around your home like NINE + SIXTEEN has done.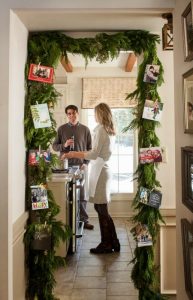 Being Orlando family photographers, we love to see families who find unique ways to tie photos into their holiday decor. I think these ideas are creative, fresh and festive. I love the way garland accents our home during the holidays and I LOVE this concept. If you are really popular, go crazy, and ad cards to both your tree and some garland!
I hope I have inspired you to dive into some new decor this season. I know that I will be getting busy with some of these great ideas once the cards start arriving. I love that most of these displays are versatile and can be used with your seasonal family photos as well. We love being an Orlando portrait photographer and being able to provide our clients with amazing portraits to warm up their home during the holidays.