Disclosure: Some of the links in this post are affiliate links and as an Amazon Associate I earn from qualifying purchases at no extra cost to you.
Best beaches near Orlando
As an Orlando photographer, we often find ourselves recommending the best white sand beaches near Orlando. When visiting Orlando its a great idea to leave the city and head to the beach. Escape the hustle and bustle of the theme parks and really relax. Florida has hundreds of miles of coastline, so you might find yourself overwhelmed on deciding where to go. Several beaches are within a 2 hour drive and you won't mind the drive! We've narrowed down our top five beaches to visit during your Orlando vacation.
As vacation portrait artists, we love creating memories for families while they are on vacation. Contact us if you would like to experience a custom portrait session during your trip!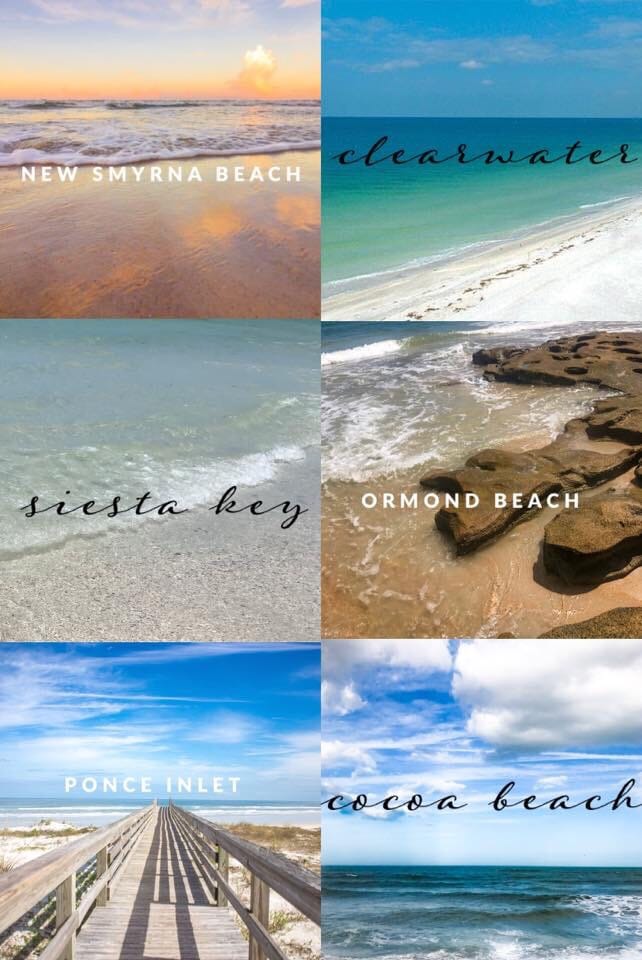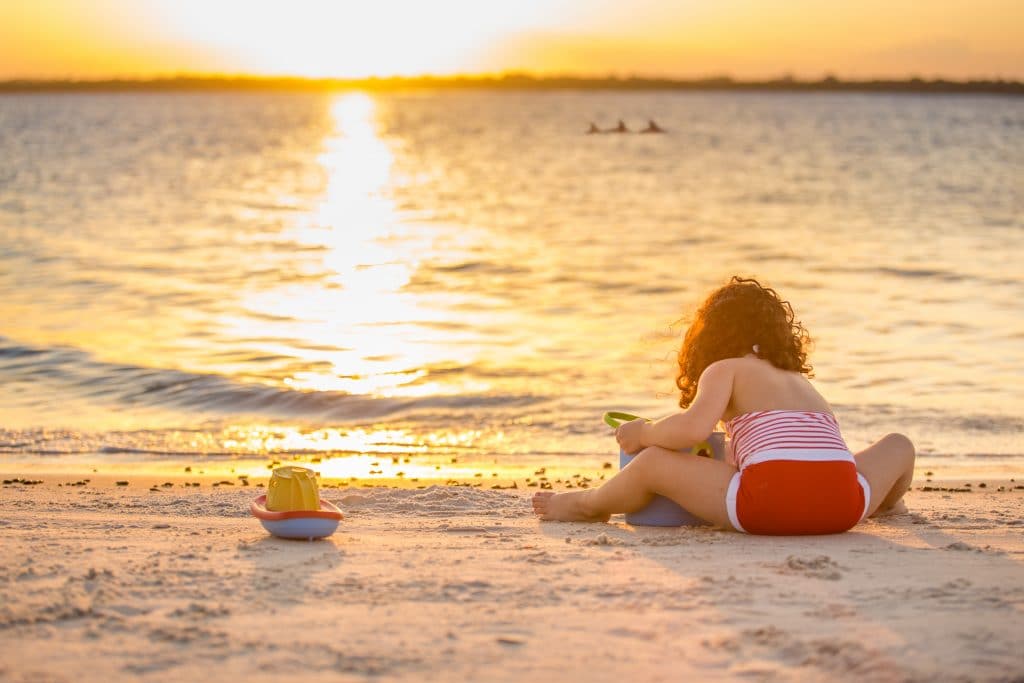 New Smyrna Beach
We might be partial, but New Smyrna Beach is at the top of our list. Only 1 hour and 30 Minutes away from Orlando.
We love the small town feel and all of the beach charm! 13 miles of white sand, beach driving and a great downtown area.
Flagler avenue has a lot of cute boutiques, bars and restaurants. Enjoy an incredible burger at Breakers on the beach or pick up a handmade find at the farmer's market. You will love the island life! If coming on a weekend be careful of afternoon beach traffic.
You can drive on the beach here and Flagler and 27th ave are the most popular entrances. There is an entrance fee for beach driving and a parking fee in certain areas!
We love to enter beach driving at either Beachway Ave or Crawford road and drive all the way down to the jetties.
Beautiful views of the Ponce Deleon Lighthouse, lighter crowds and untouched dunes make this our favorite place to hangout. Bust out a waterproof bluetooth speaker and relax!
For a more in depth guide to New Smyrna Beach, check out our very own travel guide to the area! It outlines our favorite things to do, see and eat in New Smyrna Beach.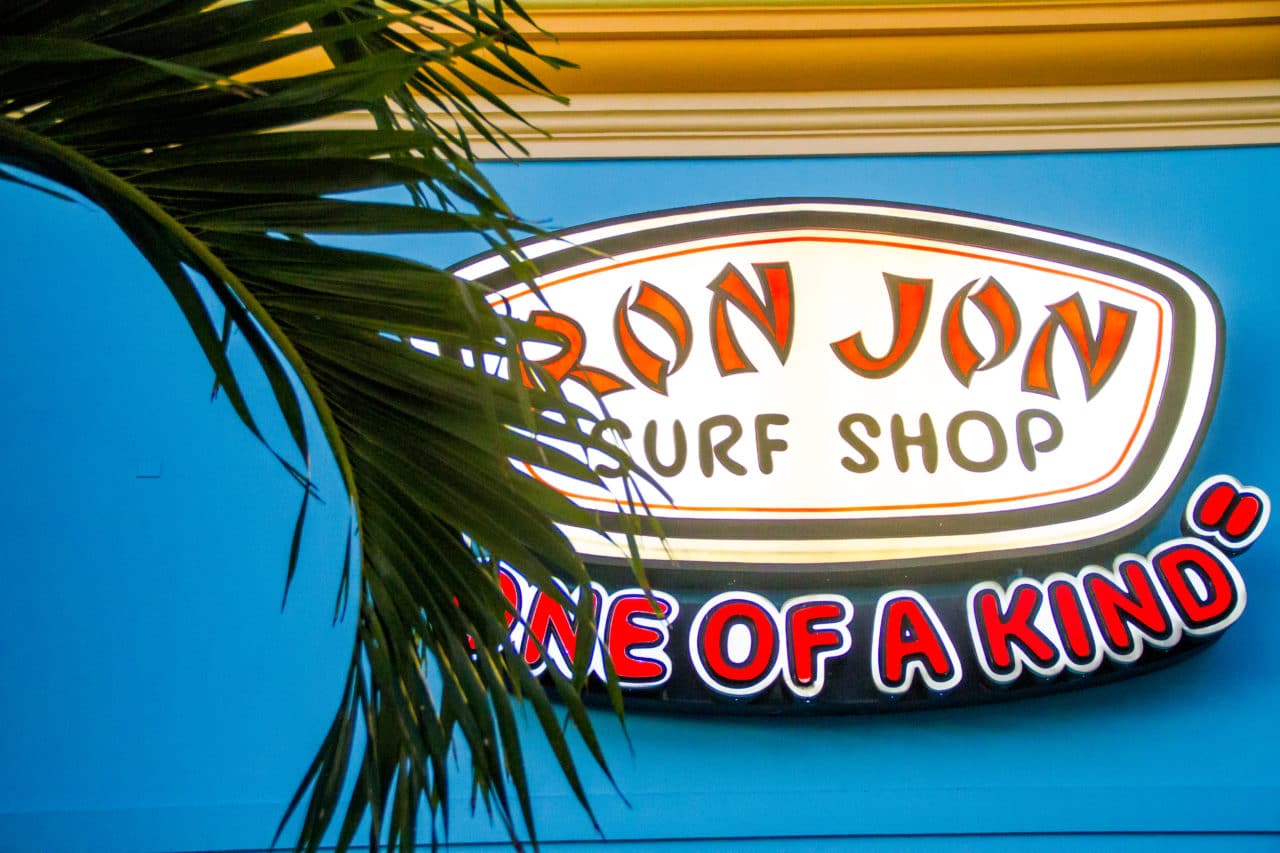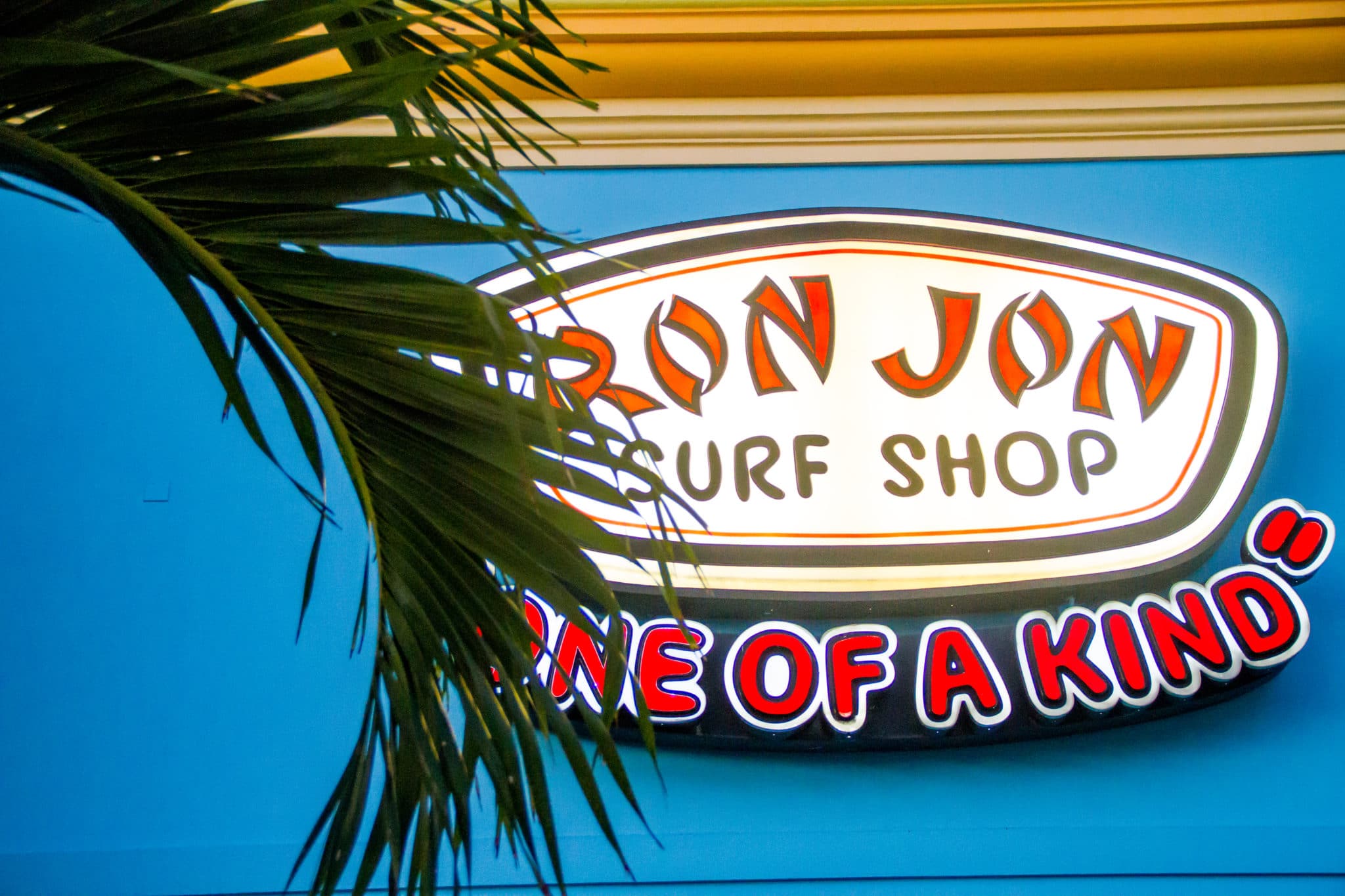 Cocoa Beach
If you are looking for something with more of a resort town style then Cocoa Beach is perfect for your family! South of the Cape Canaveral Air Force station, this city is known for its great waves! While there, we always visit the cocoa beach pier, a lot of places to sit down, grab a drink and enjoy the view. If you love history, check out the surf museum! A quick 1 hour, 20 minute drive and you can feel the sand on your feet!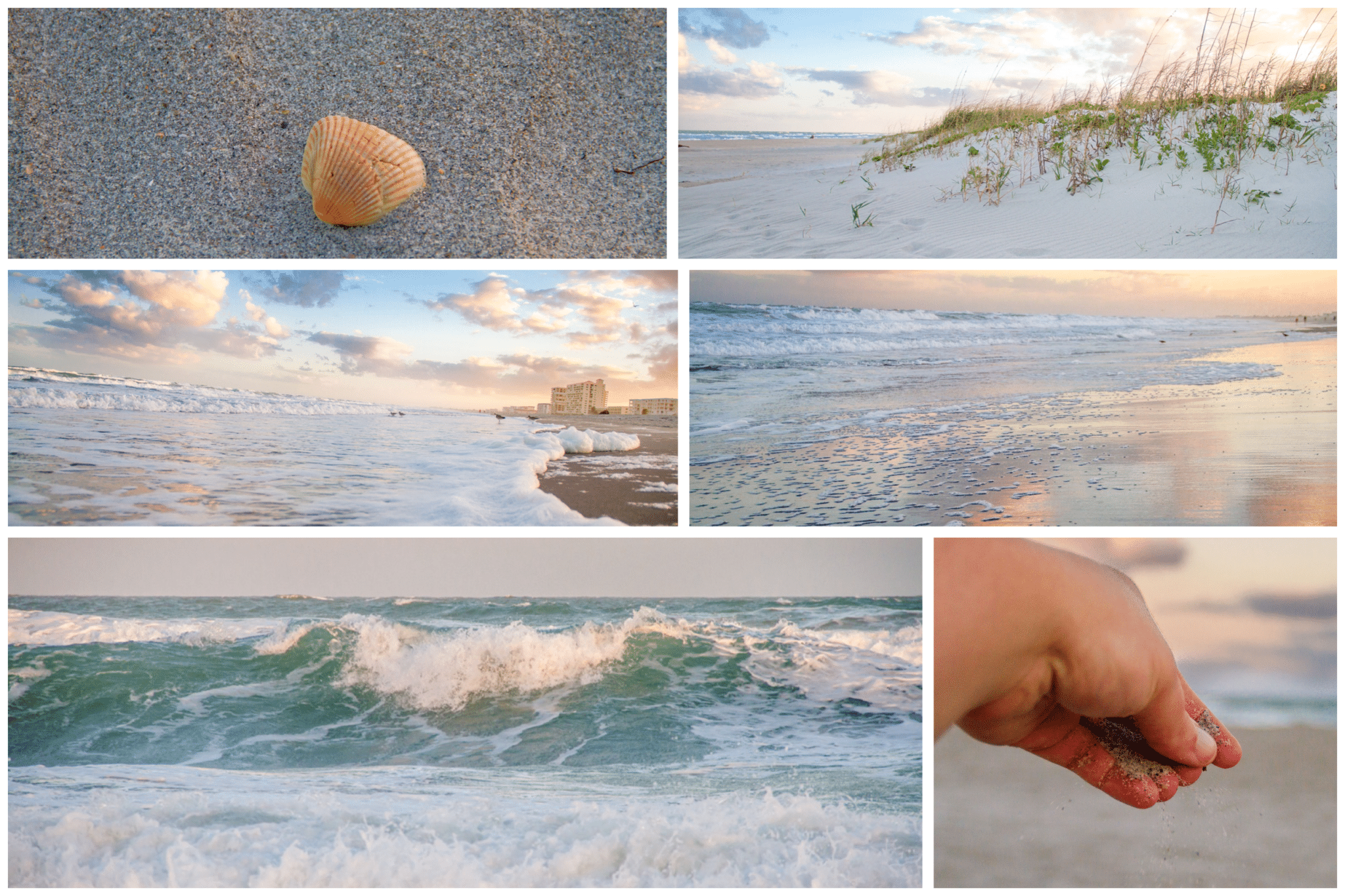 clearwater
A little further of a drive, but we love Clearwater's beautiful beaches! Many people are drawn to Clearwater for its clear blue water and white sandy beaches.
It's located on the west coast and we highly recommend taking a trip over to see this gulf coast beauty. Over 3 miles of coast line on this barrier island.
All of that powdery white sand is amazing to stick your toes in but you don't want it to stick to you. Getting a sand-free beach mat changed our life!
Tons of dining and shopping, but most important average highs of 70 degrees! The local aquarium is a must see, they rehabilitate aquatic animals, including Winter, from the movie Dolphin Tale. Tampa is nearby and has a lot of things to do, if you wanted to take a few days to explore!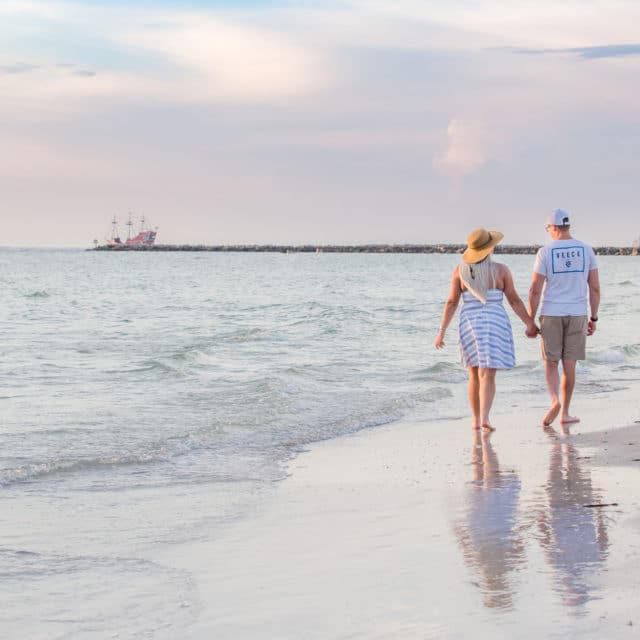 Vero Beach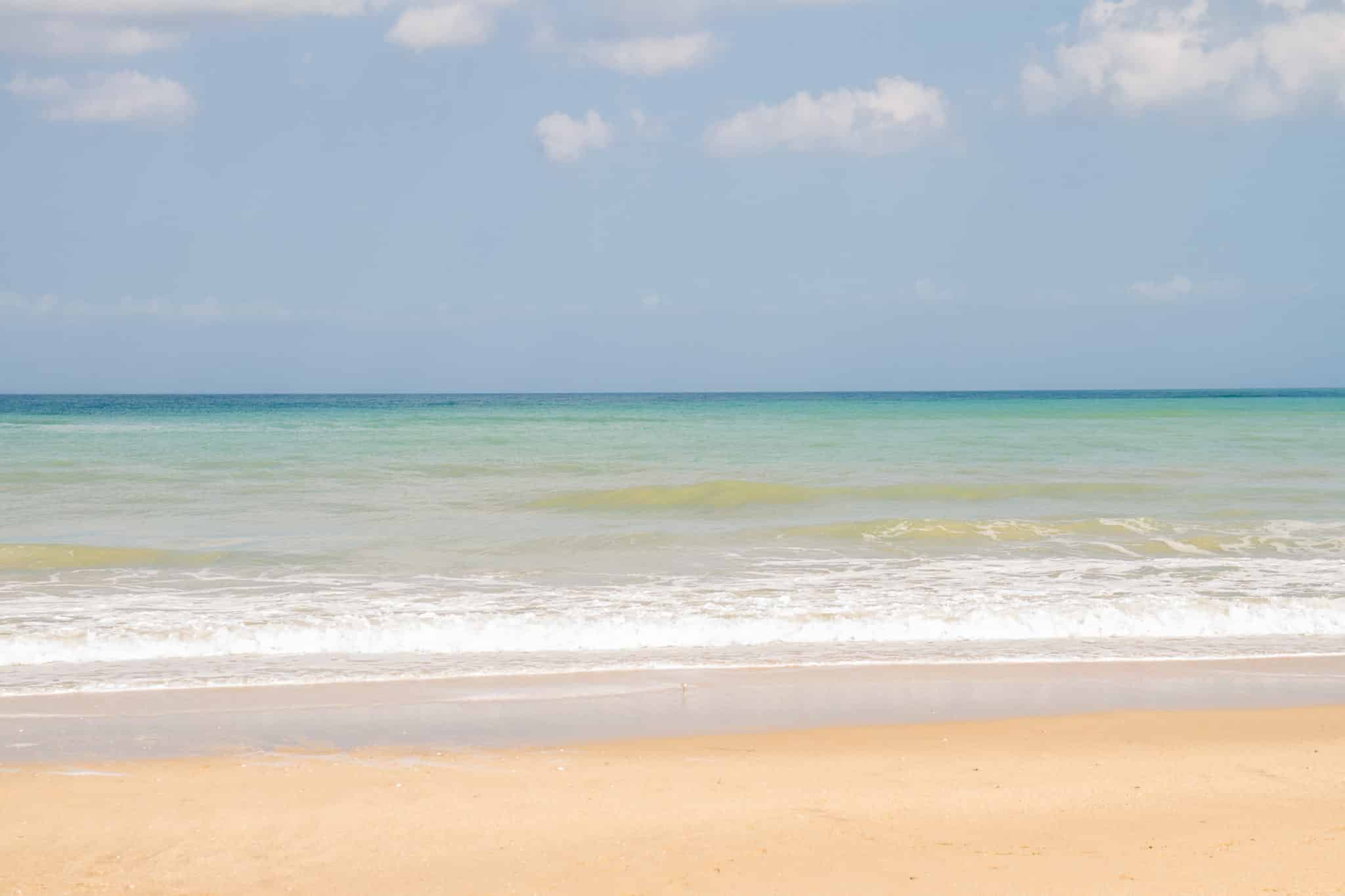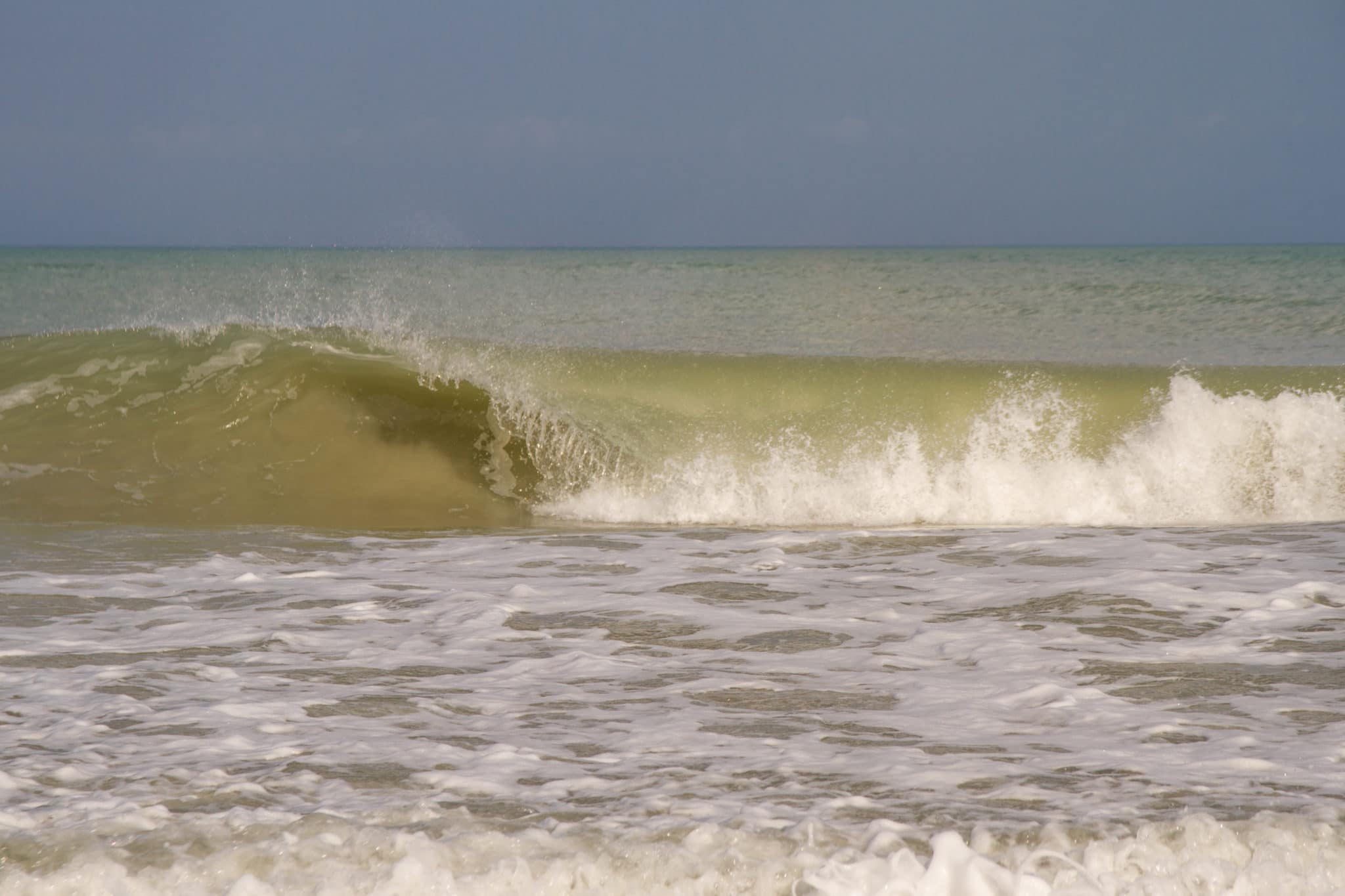 Vero Beach, within two hours you can see the Atlantic Ocean. So many cute shops and places to eat. Disney has a beach resort here and its adorable.
The Indian River lagoon is also a great opportunity to go kayaking or fishing. I highly recommend you pick up an inexpensive waterproof phone case.
We learned this the hard way.
Let's just say that Ziploc bags DO NOT work.
We bought some waterproof phone cases for our paddling trips and LOVE them. We bring them to to the Disney Waterparks all of the time!
We love the McKee Botanical garden with tropical plants and water filled Lilly streams.
Siesta Key
Siesta Key is one of the most beautiful beaches in the world! And we just aren't saying that because we love it. Dr. Beach has named it as the best beach in the US and it has been rated among the best in the world.
It has the purest white sand on Earth and the water is a crystal clear turquoise that glistens beneath a stunning gulf coast sunset.
Because the water can be so clear, it is also home to one of the best places in Florida to snorkel – Point of Rocks.
We got ourselves hooked on snorkeling at Juniper Springs when we got to use a dry-top snorkel for the first time. We went right home and bought the Seavenger dry top snorkel set. We love it!
If you happen to have some extra time, get a ride to Beach access 13 and walk down to the beach. Go around the sea wall and lay your eyes on a little slice of Siesta heaven: Point of Rocks. It's tricky to access but worth it!
You will love the white sand, the blue water and the breeze in your hair. If you can muster up enough motivation for your toes to leave the cool white sand then you won't want to miss what Sarasota has to offer. Known as the culture capital of Florida, Sarasota boasts some of the best restaurants, art, nightlife and shopping in Florida. The Ringling Museum is an absolute must see! Fall in love with John Ringling's mansion, enjoy his incredible art collection and the whole family will love the circus museum as well.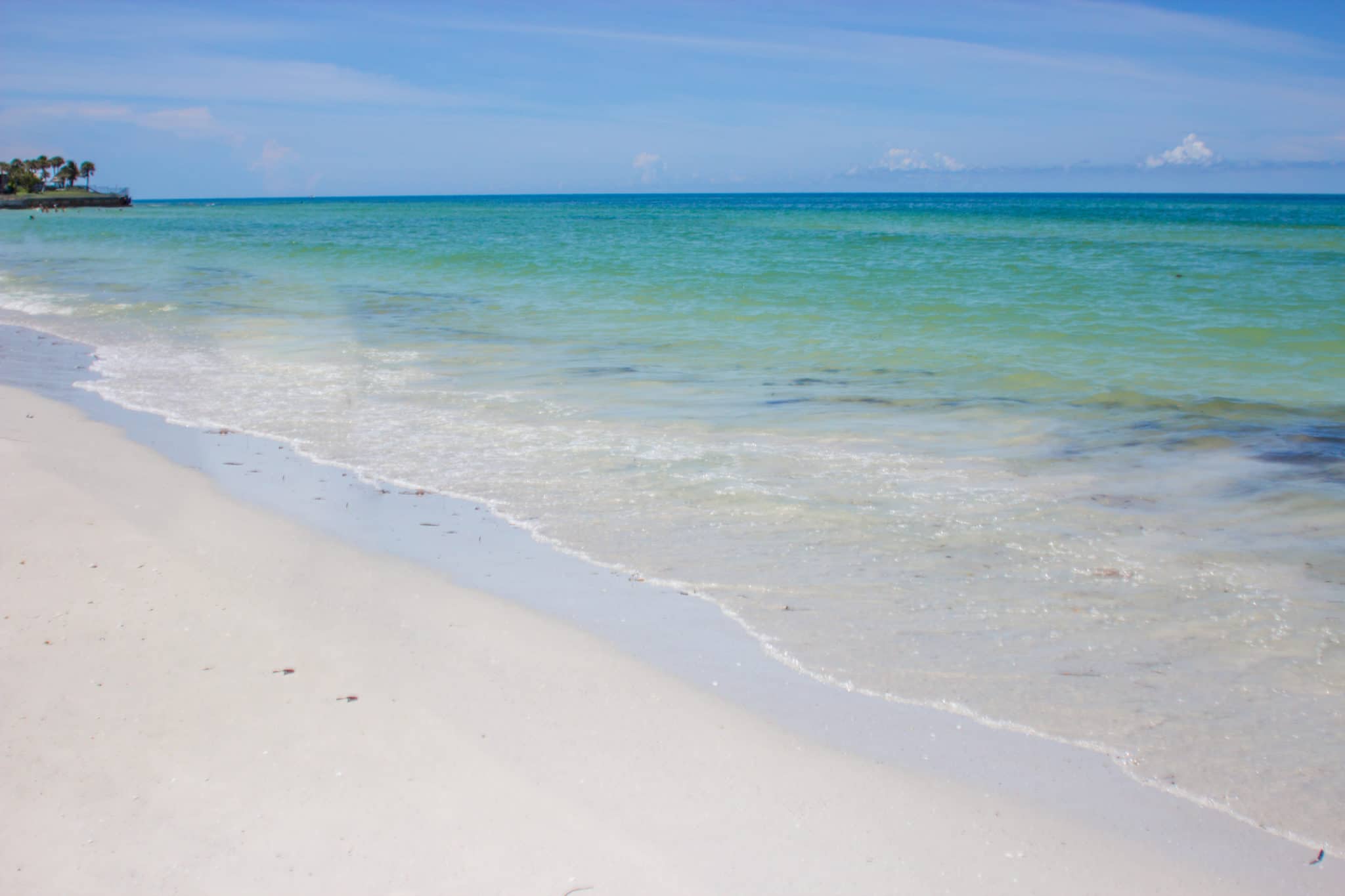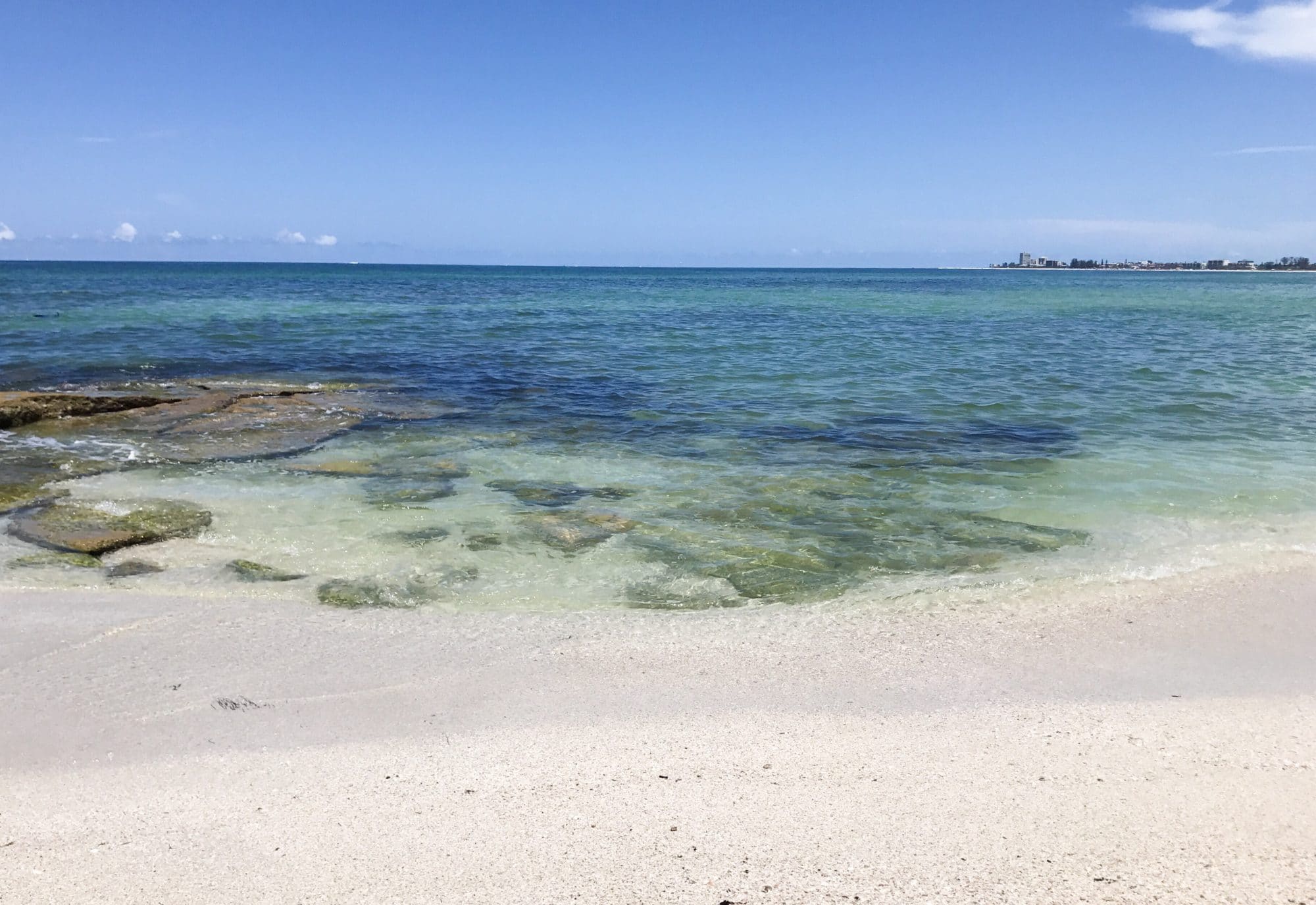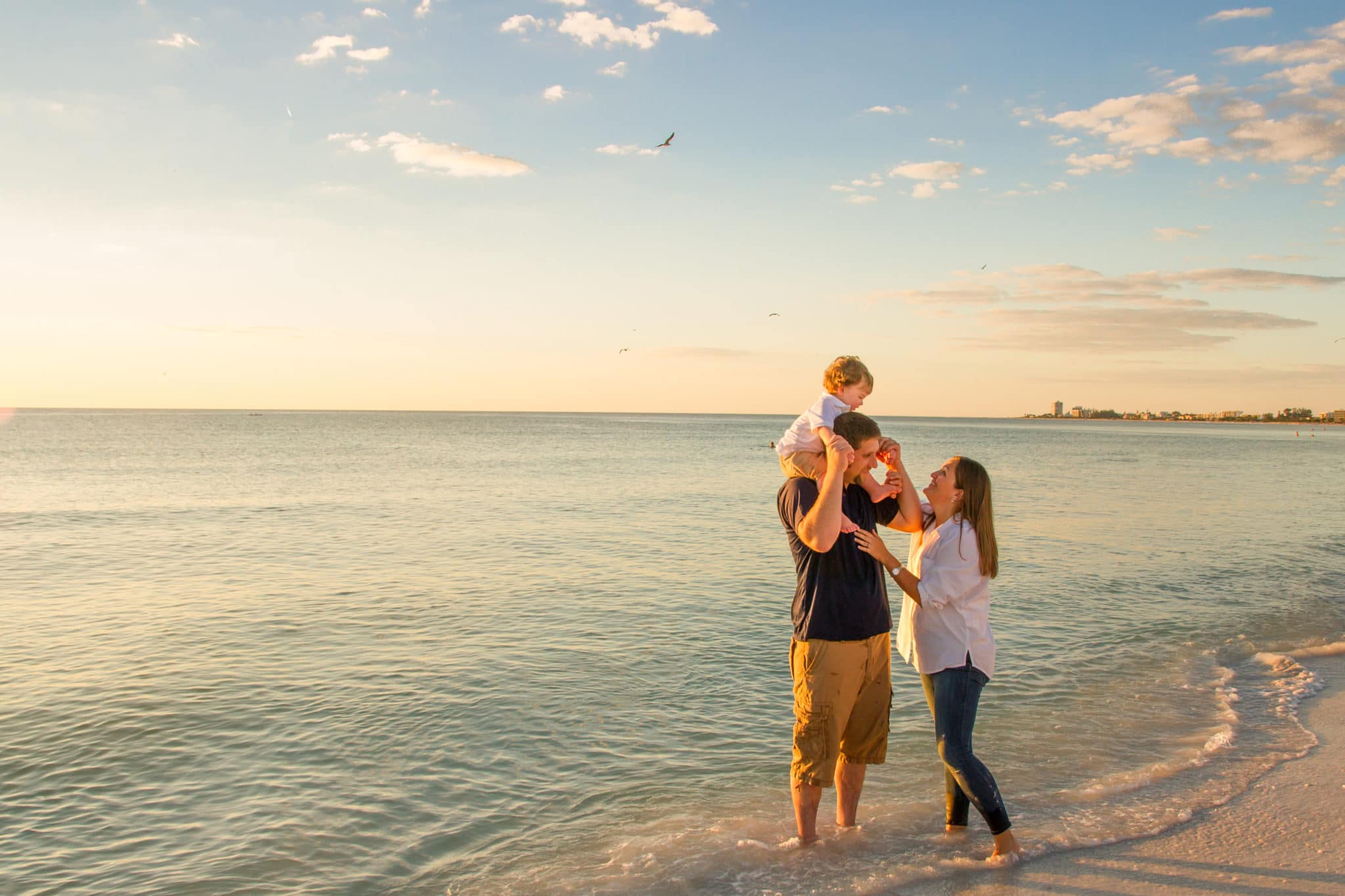 It's hard to narrow which beach you visit, but we hope this list helps. If you have a town in your mind we didn't mention feel free to ask us and we can give you some input!
Ormond Beach
Ormond Beach is a laid back beach town just north of Daytona Beach. Ormond Beach is often much less crowded than Daytona Beach and it has unique coquina sand with a red hue. We absolutely love taking the scenic A1A drive from Daytona Beach to Ormond Beach.
Head to Washington Oaks State Park to check out a truly unique beach with interesting rock formations.
Ormond Beach is about an hour and 15 minutes from Orlando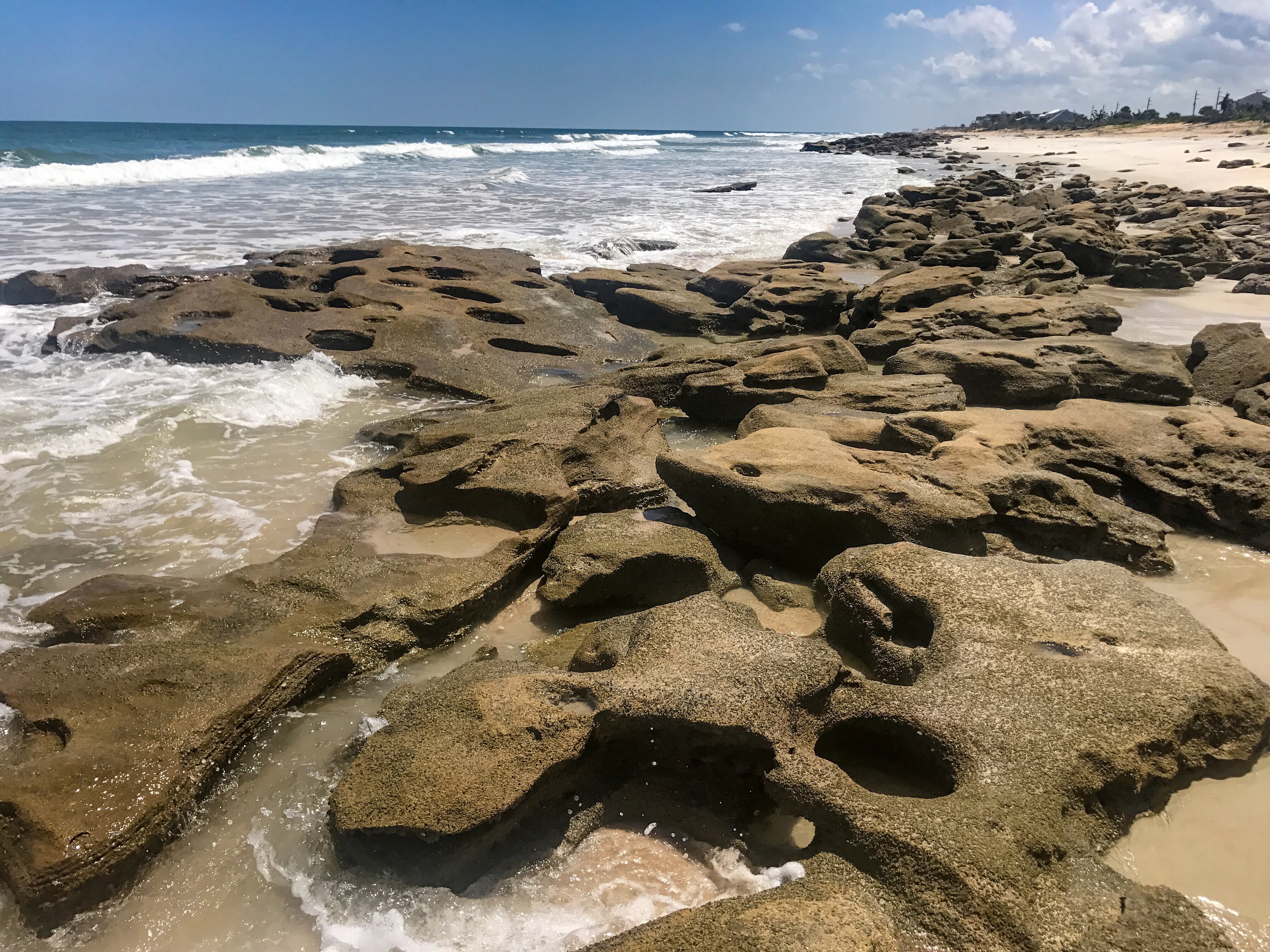 Ponce Inlet
Ponce Inlet is a hidden gem tucked just south of Daytona Beach. It's most well known for the Ponce Deleon Lighthouse, which offers the best view of the World's Most famous beach – from the top of the Lighthouse. The beaches have white sand and pretty sand dunes.
About a 1.5 hour drive from Orlando