As Jacksonville Florida wedding photographers we have so much fun photographing couples!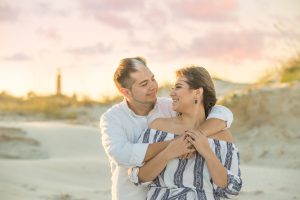 Engagement photography sessions are a blast because there is so much excitement and love in the air. However, many people don't even think about scheduling an anniversary portrait session! Celebrating your anniversary with a portrait session is an incredible way to document your journey together so far.
There's also no better place to spend a sunset in Florida, than on the beach. When Antonio contacted us about booking a Daytona Beach portrait session, we were thrilled. They were visiting Florida and celebrating their anniversary. We brought them to one of our preferred locations in Ponce Inlet, FL for a sunset session. Thankfully, our favorite spots didn't experience too much damage during the hurricane. But sadly, the dunes did get a little bit of a beating. Fortunately, the beach was just as beautiful as ever and the sunset was fantastic. Florida skies are always so colorful and full of contrast and it compliments the white sand perfectly.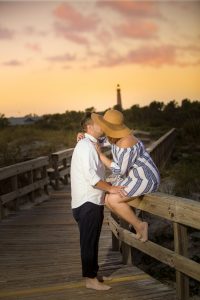 And, I mean you can't deny that it also compliments this lovely couple.
Right in the middle of their session we started walking towards the jetis and stumbled upon something we don't see everyday. A shark had washed ashore. It was kind of sad but undoubtedly quite a sight. It distracted us for a few minutes. Even as locals, this was an interesting sight to behold. It's a reminder that when using nature as your backdrop, there is never a dull moment! Whether it is a Jacksonville beach photography session or a Daytona Beach photography session, the beach never disappoints.
We finished the session by the inlet right as the sun had completely gone down. We love working in ponce inlet and being Jacksonville Florida wedding photographers! Contact us to learn more about scheduling a portrait session.