Alright, so we are super thrilled to be sharing this amazing session tonight. As a Daytona Beach wedding photographer we are all about love stories. So, this session was a lot of fun for us. It involves a canoe and an adorable couple. So, Let me give a little backstory to this session. On our way to Ponce Inlet we always pass by an incredible view of the river and it has inspired Jon for quite sometime. And when Jon has an idea, he is going to make it happen. We knew what we wanted to do but we were just waiting to meet the right couple. Annnnd here we are, we finally found them!
When Corrine contacted us, we knew instantly that they were perfect! They are laid back and adventurous. She told us how they met at Texas Roadhouse, where she worked at the time, and that his parents persuaded him to leave his number for her – after commenting about how pretty her eyes are. They had a sushi date a week later followed by a car show and ice cream. They hit it off immediately and before you know it they were kayaking together on their second date. Adorable, I know. Corrine explained that th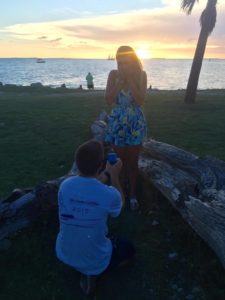 ey got engaged in Key West (thumbs up Aaron) which sweetened this story even more. They went on a 3-4 mile walk with friends through Fort Zachary Park to see the sunset. Some friendly passersby with a golf cart gave Corrine and her friend a ride while the boys raced to get there by sunset so Aaron could propose. Good news, he got there, and she said yes in Key West. And the moment was captured beautifully by their friends!
Their story is full of heart. We knew this was perfect and we were ecstatic. So, let's get to the center of the planning process. We knew it was going to involve a canoe and water. So, we did some driving and some asking around until we foun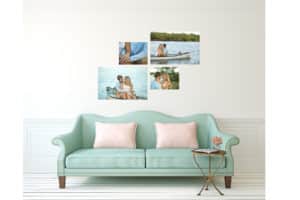 d the perfect spot. Which is easy to do in New Smyrna Beach. We worked with Corrine and Aaron to put together the wardrobe and style the session with a little help from Pinterest. We called our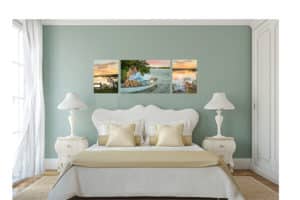 go to make up artist, Sarah Schmidt, and decided on a nice neutral palette. Then it was time to work on the posing guide. We drafted some must have poses leaving plenty of room for the candid moments in between. We always map out sessions beforehand so that the session flows and we can focus on the moment.
I can definitely see these portraits coming to life as a beautiful wall arrangement or album. We are always thinking about this as we photograph each portrait. We want to tell a story that will fill the pages of a beautiful album or fill the walls of a home. Our process harbors creativity and artwork that is meant to be displayed. We are overjoyed with the results and it was so much fun working with this couple. This is why we LOVE what we do. As a Daytona Beach wedding photographer it is incredible to be a part of creating portrait sessions and capturing unforgettable stories.