I can feel it getting closer to pumpkin spice latte season & you know what that means! Lots of people will be popping the question over the holiday season and newly engaged couples will be ripe with excitement. As a Daytona Beach wedding photographer we are ready for all of this excitement and look forward to some incredible engagement sessions.  If you are recently engaged then you know that all of that joy is paired with a load of wedding planning. You may be fully prepared to conquer your big day with a binder and a possy of organistas  organized friends that will keep your day in order – or you may feel a little overwhelmed! Either way, chances are that you will have a team of professionals, friends and family right by your side to help make wedding planning a LOT easier.
One of the main sources of wedding planning stress seems to stem from all of the decision making that comes with laying out the wedding of your dreams. Most couples meet with us and aren't really sure how much photography coverage they need or how to decide. In an effort to eliminate some of those concerns I laid out a basic sample of what photography coverage might look like. It's important to note that your photography timeline is completely customizable based on your personal preferences. So, many couples will  differ on what is most important to them and therefore may need more or less coverage. This is guide is just a reference to show you a sample of what your photography coverage will look like. I think eight hours is a great starting point for a lot of couples & hiring a professional wedding planner will ensure you stick to your timeline.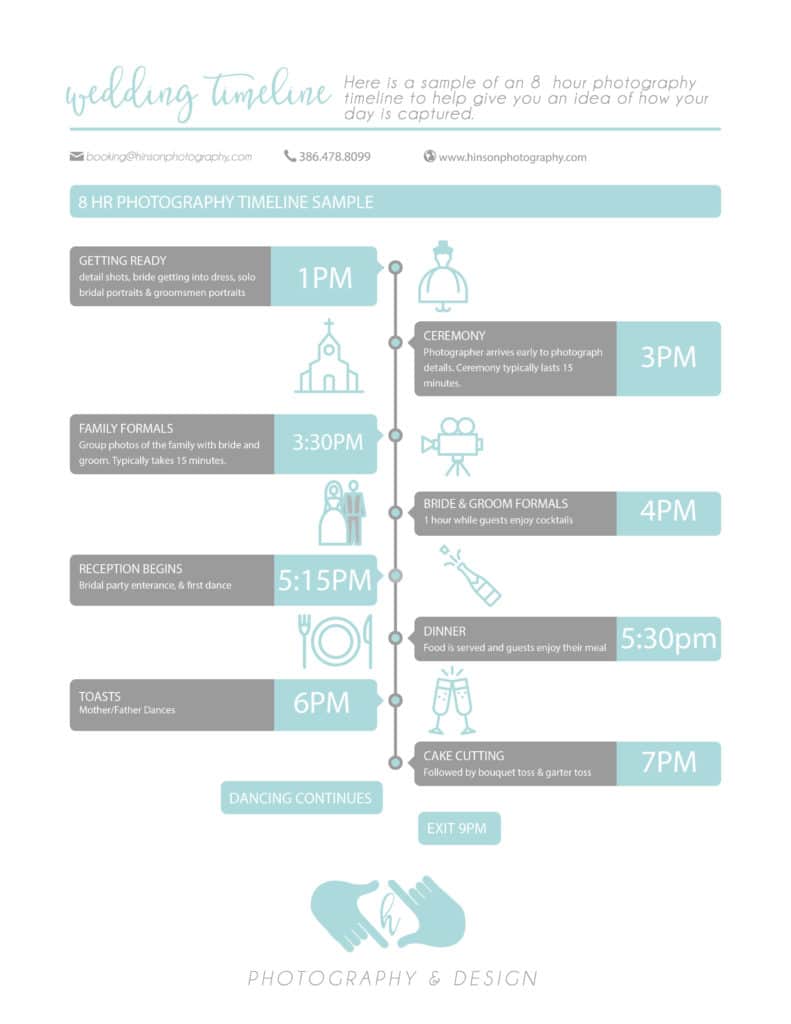 Most couples want photography coverage for:
Getting ready  – Your orlando wedding photographer will photograph detail shots of the rings, invitations, shoes etc. And some fun shots of your and your bridesmaids while you drink mimosas. You will take about 15 minutes to take some solo bridal portraits after your photographer captures you putting on your dress. Your second shooter will be photographing the groomsmen. Dedicate more time before the wedding if you plan to do a first look.
Ceremony  – Some ceremonies are much longer than others, so this will be important to consider when deciding how much coverage you will need.
Formals – You will likely want family formals after the ceremony and then you will want to dedicate at least one hour to portraits of just you two together.
Grand entrance – Your second shooter will photographer details at the reception venue before you and bridal party make a grand entrance.
First Dance – Your photography team will be capturing you while you sway across the dance floor.
Dinner – Most photographers will take this time to grab a quick bite to eat while guests enjoy their dinner. Most people don't want to be photographed while they eat!
Toasts – If your best man wants to wish you a long happy marriage then your photographers will want to capture this special moment.
Dancing – If you hired a fun live band or a DJ to keep the party going then your photographer will be capturing the ambience.
Cake Cutting – Must have photo op! Usually followed by bouquet toss and garter.
Exit – The dancing will likely continue after the cake cutting but as the night comes to a close you will likely want your photographer to capture your grand exit.
Recommendations: Ask your photographer about a Photo Booth which will be a great opportunity to get some fun shots of all of your guests. Have an unplugged ceremony to ensure your guests don't get in your daytona beach wedding photographer's way. Have a first look to capture a private moment of your together before the ceremony. Hire a wedding planner to help everything run smoothly.
If family formals are scheduled to begin at 3:45 then tell your family to be there at 3:30 to leave a little room for the late birds. Make sure you prep your family for formals by telling them where and when to meet. If your photographer doesn't ask you for a list of family members and groupings then send them an excel spreadsheet or even just a quick list for them to reference. Your wedding planner will also be instrumental in gathering everyone for formals. Being organized and well prepared makes this process a breeze & your photographer will likely know how to efficiently knock family formals out of the park.
Set aside at least one hour for your formals. You are glowing with newlywed bliss and this will shine through in your portraits together. While your friends and family enjoy cocktail hour, you and your orlando wedding photographer will be creating some timeless portraits that you will cherish forever. Don't feel rushed, just enjoy the moment and let your love story unfold.