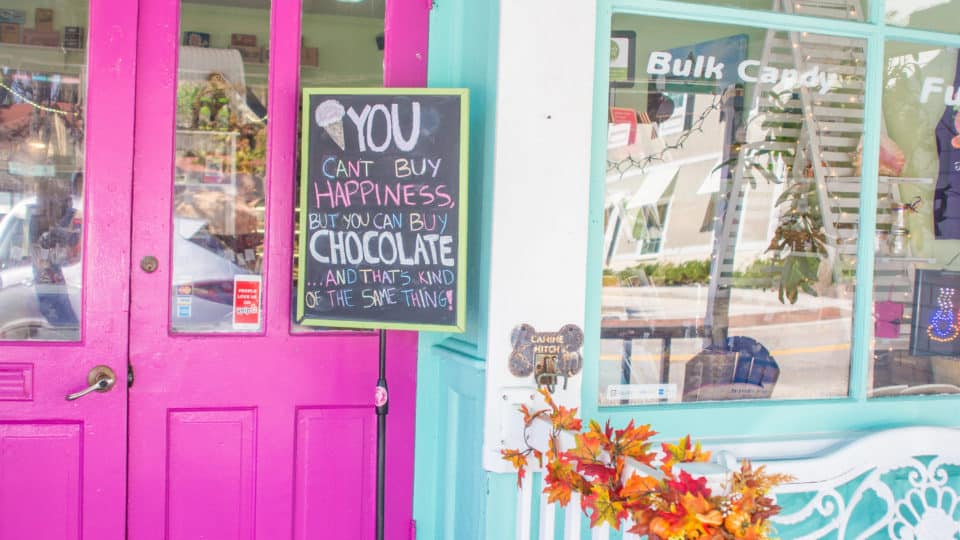 Beachside Candy Co.
Who doesn't love candy? When our family craves a sweet treat, we know exactly where to find specialty chocolates, salt water taffy, ice cream and a huge selection of delectable candies. Beachside Candy Co. will not only satisfy your sweet tooth but you will also find an immersive atmosphere that is fun and inviting.

It's hard to miss the bright pink doors and colorful charm that welcomes you. As you enter, you will see an abundance of vibrant candies, distinctive chocolate treats, bright window light and feel the small beach town vibe that New Smyrna Beach is known for. The candy is sweet but the service is even sweeter! The owner, Julie, has such a warm personality. One of the reasons we love Beachside Candy Co. as a New Smyrna Beach Photographer, is that it is family friendly and full of the New Smyrna Beach charm that we love.
A Flagler Avenue Gem
Beachside Candy Co. began in 2008 and is located at: 221 Flagler Ave. New Smyrna Beach, FL – It's a distinctive candy shop that adds flavor to the already eclectic Flagler Ave. with over 40 flavors of saltwater taffy and homemade chocolates.
One common theme you will notice when you visit New Smyrna Beach is the love that locals all share for this quaint little town. What Julie loves the most about New Smyrna Beach is the people, the small town atmosphere, the weather and of course, the beach!
A happy place
Have you ever seen anyone frown in a room full of candy? Owner Julie hasn't either and that's why she loves what she does. Julie started a candy shop because she loves to make people happy and you can definitely feel that when you walk in.
Flagler Ave. is a popular NSB hub that visitors flock to all year long. Julie loves meeting all of the different people that walk into her store and leave with a smile. We love that aspect of our business too because we are always able to photograph families from all over the place. As a New Smyrna Beach Photographer, we love smiling faces too!
Something for everyone
Whether you are in the mood for homemade chocolate or you want to cool off with some yummy ice cream – Beachside Candy Co. has something for you! The chocolate is divine and we love to come in and see what seasonal items they are offering. The little pumpkin chocolates and candy corn assortments are so incredibly cute this fall. We tried the peppermint bark around Christmas time last year and let's just say that it was nearly gone by the time we got home!
We brought our nieces and nephew an assortment of different candies during their visit last fall and we found something unique for each of them. Our little guy loves the lego candy! You can play with it and eat it. Check out the candy bar to fill your bag with a nice variety of sweet treats.
When I asked Julie what her favorite candy was she quickly replied, "the turtles!" I can't say I disagree! But it's hard to pick a favorite.
Wedding favors & more
Saltwater taffy makes a phenomenal wedding favor, especially for coastal weddings! Julie showed us some samples of the chocolates that they offer as wedding favors and we were so impressed. We will definitely be adding some more information about it in our wedding guide for any brides that are looking for awesome favor ideas.
Not only is there an expansive selection of candy but you will also find some local artwork, gifts, retro candy and novelties. And since one of the best ways to fully experience New Smyrna Beach is on a bike, you can even rent a bicycle!
If you are visiting New Smyrna Beach then we highly suggest you drop into Beachside Candy Co. and pay Julie a visit. You will instantly feel the undercurrent of Florida style and the NSB culture you love.