10 questions to Ask Your Wedding Photographer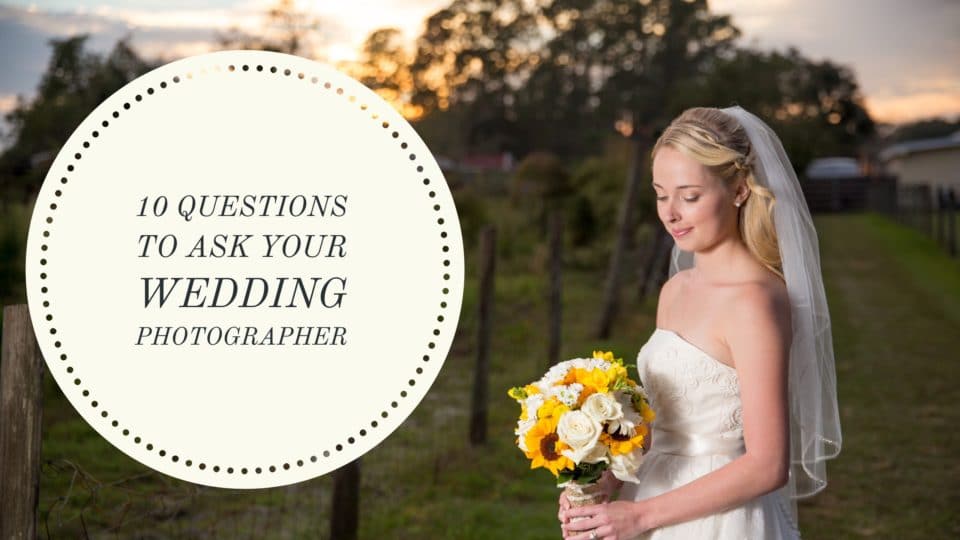 Planning a wedding for the first time? You are probably going to have a lot of questions. Most couples aren't sure what to ask their photographer, so here are 10 questions to get your started. As wedding photographers in Daytona Beach, we meet tons of amazing couples who just aren't sure where to start. So, we try to be as helpful as possible and answer questions they may not even know they have. Here are some of those questions!
1 Do we have your date available? This is one of the first things we will confirm with you. We want to make sure we don't waste your time if we do not have your date open.
2 Do you offer professional print products and albums? Yes, we do! We deliver your gallery in person and will show you samples of our albums. We offer custom wall art arrangements that can be designed specifically for your walls!
3 How far in advance should we book you? We love to meet with you soon after you are engaged so we can photograph your engagement session as well as secure your wedding date. We like to have you in our schedule as soon as possible.
4 What types of weddings do you photograph? We have photographed weddings of all styles and sizes, from elopement to 300 guests. As wedding photographers in Daytona Beach, we also photograph destination weddings!
5 What kind of photographic style do you have? We have a organic style of photography and provide images you will not forget. We are both laid back and let your day happen the way its meant to be. We insure that you receive the photographs you deserve. We have guest lists and family names to make your formals flow easily.
6 What makes Hinson Photography Unique? Our photographic style sets us apart from others, we make sure you look your best and provide the best possible service not only during your wedding day but before & after. We create friendships with our couples and love watching your family grow.
7 We love your work, where can we find more? You can check out our portfolio on our website, or we can meet you in person and show your our amazing albums and premium wall art.
8 What cameras do you photograph with? We photograph with Canon, we have trusted this company from the beginning. Both of our Grandfathers photographed with this brand and we would only trust this during the most important day of your life. We photograph with digital cameras, we provide you with the highest quality format as well as beautiful wall art and museum quality prints to ensure you never lose your photographs.
9 Do you photograph black & white? Will you recreate something from Pinterest? We use our artistic vision when editing your photographs, we ensure color perfection as you enjoy your photographs. We do sometimes choose black & white – and we will ask you during our consultation if you would prefer to have none.
During our meetings we will discuss and special photographs you have in your mind as well as images you have seen and liked. We will create images in our style, but love to hear what you have seen and loved!
We provide beautiful slideshows from your engagement session and your wedding day. This is a great way to share with friends and family.
10 What happens before our big day? We will be meeting with each other for an initial consultation to cover all of the details and walk you through our process. We typically prefer to schedule an engagement session with our couples, so that we can get to know each other – and create beautiful portraits! As your wedding day approaches, we will schedule one last meeting with you to finalize all of the details, our photography timeline, verify contact information and complete our portrait planning guide. We work one on one with you to plan your formal portraits!
It's not only important to ask your photographer pertinent questions about your wedding but it's also crucial that you aks the right questions to all of your vendors. Check out some other great tips from wedding photographers Daytona Beach!