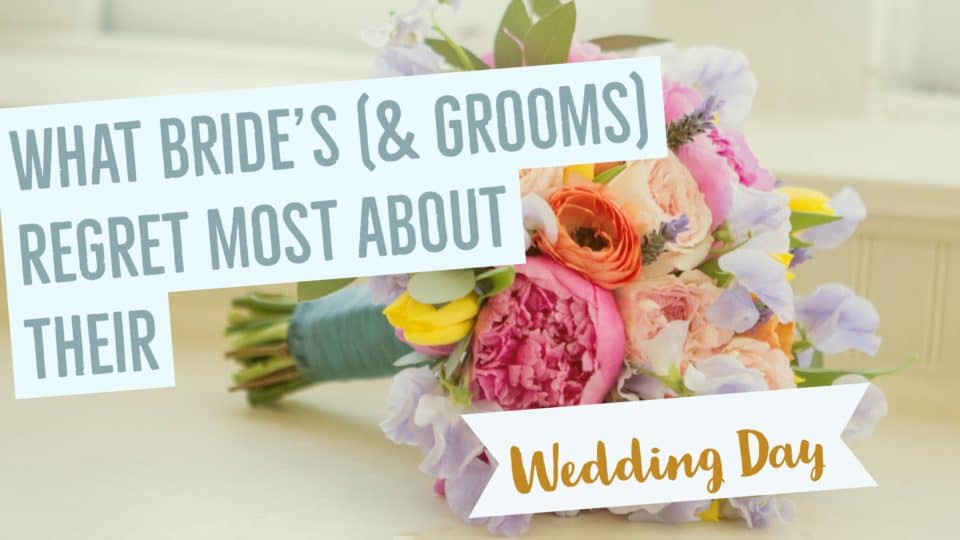 What bride's regret most about their wedding day
Being in the wedding industry, as Wedding photographers Daytona Beach, for many years now has taught us exactly what brides (and grooms) want the most from their wedding day. They want it to be the best day of their entire lives. That's a LOT of pressure. For many, it's a day that they have dreamed about since they were little. It's a big deal.
All of the hype can lead to some major regrets down the road. Learn from the regrets of bride's themselves and make the most of your wedding day!
Not hiring a professional
For the sake of this photography blog, we could merely talk about the most commonly cited regret we hear about not hiring a professional : " I wish I hired a professional photographer for my wedding!"
As Wedding photographers Daytona Beach, I was photographing a bride once and one of her family members said that they wished they had a good professional photographer to take portraits like this during her wedding day. It makes me really sad to hear about other people's bad experiences with amateur wedding photographers.
We hear this all of the time but what we also know is that so many brides say that their biggest regret is not hiring a professional for a range of services. Hiring a family member or friend can certainly cut down on costs but can potentially turn into one of your biggest regrets.
Saving money on your wedding by hiring your friend that bakes cakes or your uncle that has a pretty decent DSLR may sound appealing. But it's a risk you have to be willing to take. Not only will they be inexperienced but you don't want to jeopardize your relationship with them either.
Not hiring a videographer is something we know brides regret later on. Not only do some couples rely solely on their guests for video coverage but may forgo this altogether. SO MANY couples have said that they wished they hired a videographer. You may be perfectly satisfied with photography coverage and that's okay. However, you only regret the photos and video that you DON'T have.
You can definitely cherish the videos that your guests may take and you could potentially make a great wedding video from them. But nothing replaces the quality and results of a professional videographer. Many of the videographers we work with are just so incredibly talented, experienced and knowledgeable. It's so worth it to have all of those moments captured! Hiring a professional wedding planner will make your life so much easier! We know that all budgets are different. We don't recommend that you go into massive debt to have an amazing wedding. In our professional opinion, a professional day of coordinator is ESSENTIAL. A wedding planner to help with the entire process is INVALUABLE. Many venues include a day of coordinator which is a HUGE bonus that you will surely appreciate. There is A LOT that goes into orchestrating your wedding and it will add peace of mind to have someone managing everything for you. As a Daytona Beach Photographer, we know how much you and your fiancé put into your wedding day and you deserve to enjoy every minute of it!
Having a large bridal party
Having 10 bridesmaids may sound like a great idea at first. But make sure you consider the possible drawbacks:
Many brides don't consider how complicated the logistics of a large bridal party can be. Even just fitting 14 people up front during your ceremony can be problematic and that's not even considering the art of orchestrating a processional of that many people.
How well will your bridal party get along? They will likely be joining together for many special events like bachelorette/bachelor parties, dress shopping, tux fittings etc. Additionally, they will be working together to plan and assist with different aspects of your wedding.
How well do you really know your bridal party? Will you still be friends with them in 5 years? Will you want them in so many of your wedding photos? Only choose your closest and most dear friends.
Lastly, remember, everyone has an opinion. How many opinions do you really want to hear? If you can't see yourself wanting any input from them then they probably don't belong in your tribe.
Having too much to drink
You may want to relax a little with a couple of drinks but don't over do it! Many brides and grooms say that they wish they hadn't had so many drinks. Most people don't want to spend their first day as a married couple hungover.
Getting caught up in the details
It can be really easy to overlook important details and miss special moments when you are stressed. Focus your MOST attention on what you will remember 10 years from now. If it's really going to bother you 10 years from now that your bridesmaid spilled cocktail sauce on her dress then by all means go to town with the club soda. But don't let little missteps, minor details and accidents that aren't important to YOU interfere with your enjoyment. If make up or hair takes a little longer than expected, it is okay! Just stay calm and enjoy being with your favorite people. Be in the moment. Be present. All of the rest will sort itself out.