Ormond Beach photography | Washington Oaks State Park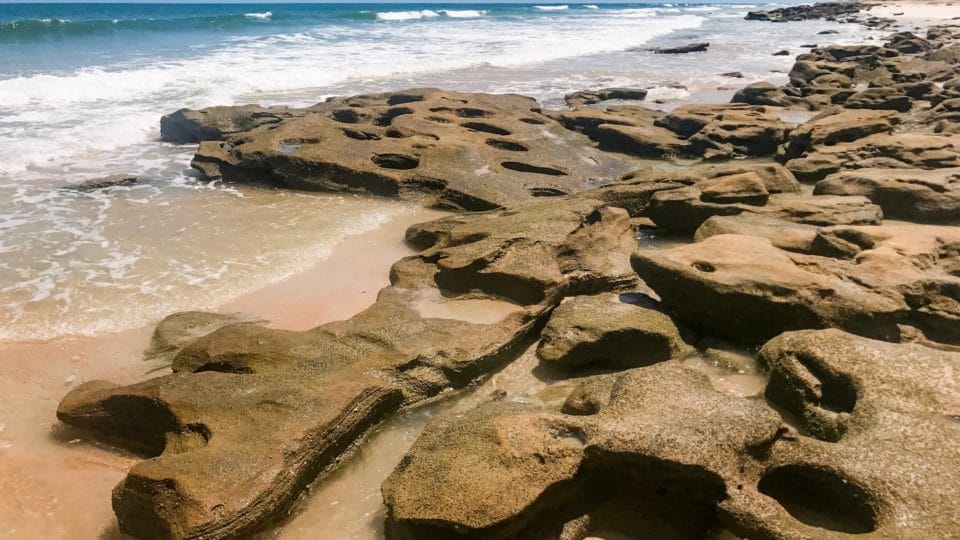 Washington Oaks State Park
We hope everyone is enjoying a relaxing day off and ending their three day weekend with their toes in the sand! We will soon be heading off to enjoy a delicious family meal and a laid back bike ride. I can tell you that we will not be enjoying any Chik fil a today, sadly! We woke up this morning with an unrelenting chik fil a breakfast craving – only to be sorely disappointed when we realized that they are closed today. While disappointed that we didn't get our hands on a chicken biscuit this morning, we think it's totally awesome that everyone is enjoying the day with their families. Our cravings can wait!
So, we instead headed to the local fruit and vegetable market to pick up some fresh fruit. As we pulled in, we could see it right away. Pumpkins! They have pumpkins on display and you know what that means? Fall is coming! We have a family tradition that basically just includes looking at all of the Halloween displays and decorations at each store. We repeat this process for Christmas too. I don't know if this is something that other people do. Maybe it's weird, maybe it's awesome. But we love it. I don't know what it is about Fall but it's my favorite time of the year. We usually take a northern trip during fall to enjoy the foliage and cool weather! Being into Ormond beach photography, it's such a fun adventure to go photograph fall scenery.
When one season starts rolling in, we must say goodbye to another. Sadly, summer will soon be over! We had a lot of fun this summer – Disney, water parks, kayaking, bike riding, swimming, going to the beach etc. Fortunately for us, Florida doesn't really change that much and we will do those things all year long! Still sad to see summer fade into fall.
Being an Ormond Beach family photographer, we like to get outdoors and enjoy fun family activities. We are always looking for new adventures and places to explore when we are not busy with Ormond beach photography projects. We recently took a day trip to Washington Oaks State park. We have only been a couple of times for leisure, so we were excited to explore a bit. If you haven't yet been to Washington Oaks state park then we highly suggest you go! It's very large, so it is definitely something you will have to see in multiple trips. We wanted to focus on exploring the beach side during this trip because we love the coquina rock formations that you will find here. It's such a unique beach to visit and it's truly stunning.We drove down a little further to Marineland, which is the smallest town in florida with under 20 full time residents. We arrived via A1A scenic highway, which was a beautiful way to travel. I love feeling the ocean breeze as you drive.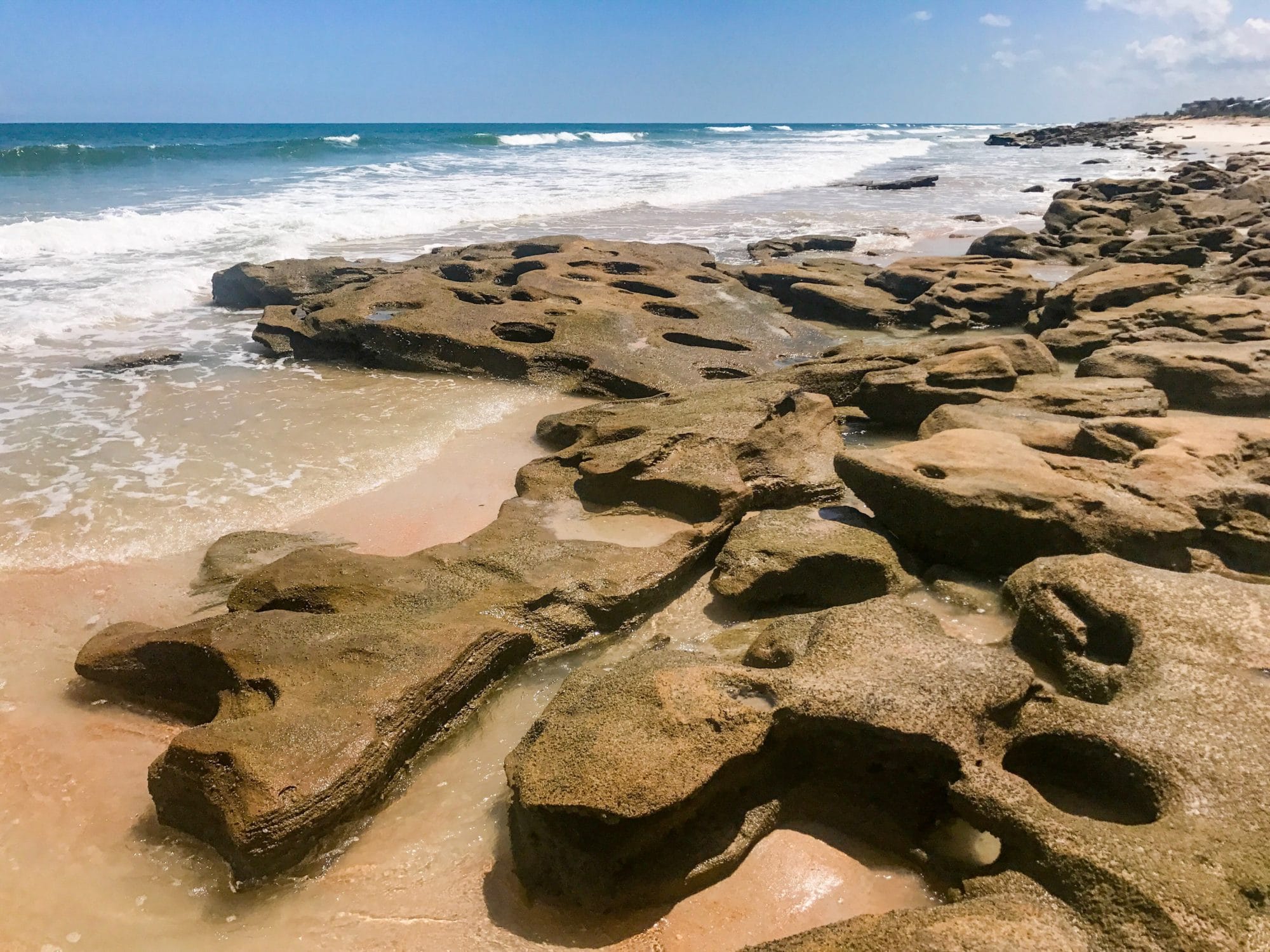 These coquina rock formations always look different depending on the tide, recent storm activity and how much sand build up there is – so, it's a neat place to explore! I feel like you could visit many times and have a new experience each time you come. If you are looking for an interesting outdoor experience, this is it. It's distinctive charm makes it such a must-see beach. With Florida, you hear a lot about popular tourist destinations but this is a hidden gem that so many people would enjoy.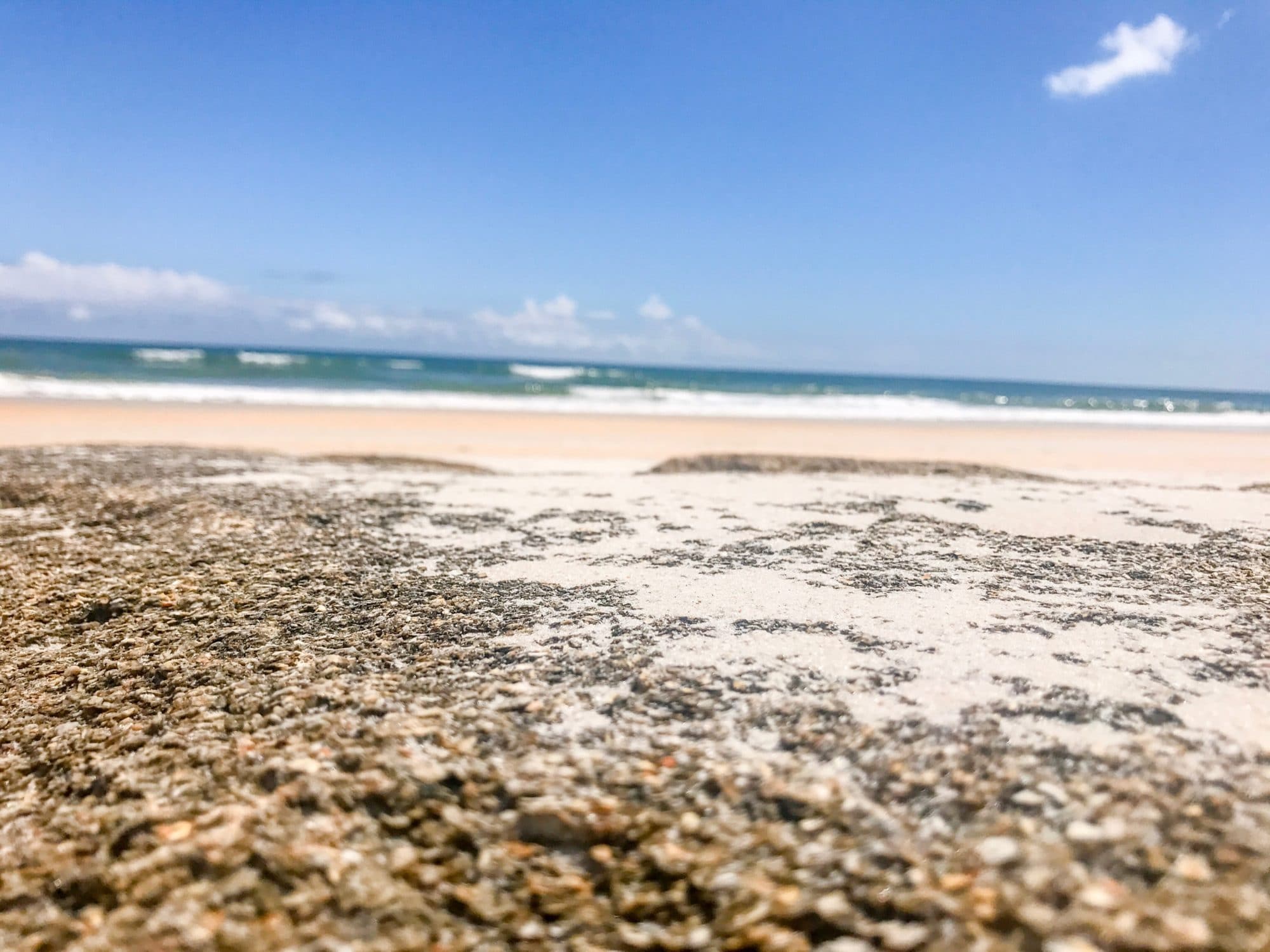 Every time we have been to Washington Oaks, there have been no crowds. Hardly anyone in sight. It's so peaceful and absolutely perfect for a Ormond Beach photography session. There were very few people on the beach and we walked down a bit further – it was just us! We had a picnic and watched the waves roll over the rocks as the tide was slowly coming in. There are many tide pools throughout the rock formations, which are fun to explore as well.