Jacksonville beach family photographers | Family Beach Photos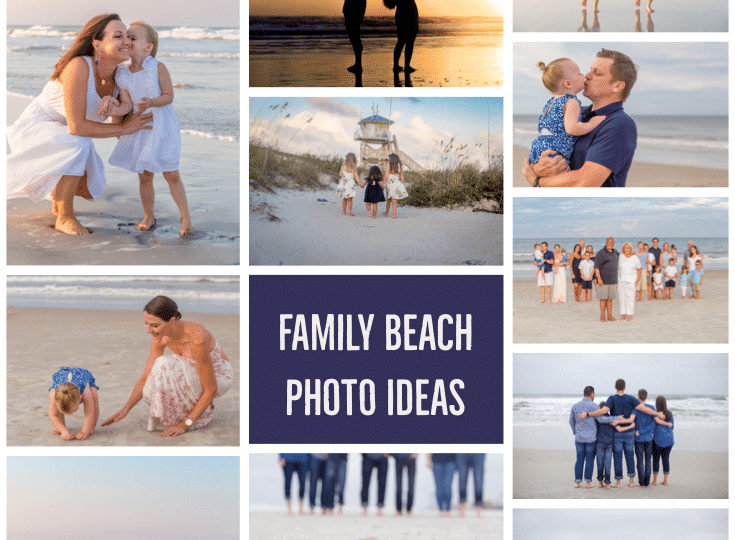 As Jacksonville Beach family photographers we are excited to ring in a New Year. We photographed many wonderful families in 2019 and are rounding up a few recent family beach photos.
If you are looking for inspiration for your family beach photos, I hope you'll find some cute ideas!
Clothing
We provide our clients with a helpful wardrobe guide and style look book to help them select the best clothing for their family beach photos.
If you don't have a wardrobe guide or a look book; A great place to find clothing ideas for your family beach photos is Pinterest. You can usually ask your photographer for suggestions as well! They usually know exactly what to recommend to suite your tastes and the location.
Here are a couple of tips:
Be careful about dresses that fly up in the wind – the beach can be pretty windy!
Don't wear clothing with noticeable logos or large graphics
Bring a floppy sun hat to use as a prop
Bring a change of clothes for little ones that may want to run into the ocean and get soaking wet.
Avoid outfits that match EXACTLY, instead choose complimentary colors
Be mindful of your sun burn situation
Remove scrunchies, hair ties or other wrist wear that you don't want in the photo
Family beach photos
We are excited to meet and photograph many new families in 2020. Here are a few favorites from our recent sessions as Jacksonville beach family photographers.
Hopefully these family beach photos will help inspire you to have family beach photos done during YOUR vacation in Florida. We photograph family all along the coast and in Orlando too!
No matter where your beach vacation is, family beach photos are the best souvenir. A family beach photo session can also be a fun thing to do on your vacation.
But feel free to stock up on quirky souvenir t shirts as well. We won't judge, as long as you don't wear them for your photo session.