How to Plan a trip to Cocoa Beach
How to plan a trip to Cocoa Beach
If you are wondering how to plan a trip to Cocoa Beach then you have come to the right place! Cocoa Beach is a coastal city known for the world's largest Ron Jon Surf Shop, The Cocoa Beach Pier and Port Canaveral. Sitting about 60 miles east of Orlando, Cocoa Beach draws millions of visitors to its sandy shores.
As Cocoa Beach family photographers, we love all of the family-friendly activities available in Cocoa Beach. It's usually about a 45 minute drive from Orlando, so that makes it a great option for a beach day during your theme park vacation.
Cocoa Beach offers plenty of things to do for families on a weekend getaway, day trip or full beach vacation. If you are looking to escape the hustle and bustle of the theme park capital of the World, Orlando, then Cocoa Beach is the easiest way to sneak off to the beach for some relaxation with the family.
The Best Time to Visit Cocoa Beach
Generally, the best time to visit Cocoa Beach is between late November and Early May (excluding spring break). This time of the year is the best time to visit Cocoa Beach because:
Less Rainy than Summer
Not peak hurricane season
Weather isn't as hot
Crowds tend to be lower
Hotel rates tend to be quite low in January and February and the weather is usually lovely. Winter can be a little chilly in Florida on certain days, so make sure you bring a coat just in case. As Cocoa Beach family photographers we know the weather can go from sunny and 75 to windy and 50 degrees all within the same week.
The great news is that Florida weather is quite moderate all year long. Even if you visit in July, you can easily cool off in the cool waters of the Atlantic ocean. As long as you have a back-up plan, hurricane season doesn't have to be off of the table either. October is a beautiful time of year in Cocoa Beach but you run the risk of having to cancel your trip because of a hurricane.
1.) Decide what you Want to do
The Cocoa Beach Pier
The Cocoa Beach Pier is owned by Westgate, which operates timeshare resorts all over the country. David Siegel, the owner of Westgate, is from Central Florida and grew up enjoying Cocoa Beach.
The Cocoa Beach Pier is a historic landmark in Cocoa Beach, it was established in 1962. This 800 foot pier is a popular place to fish in Cocoa Beach. You can enjoy live musical entertainment while enjoying the dining and shopping that is available.
The Cocoa Beach Pier is great for families because there is a wide range of activities. It's a great place to hook a big catch or enjoy dining with a view. Kids will love Sea Dogs which has adorable outdoor seating.
Pelican's Bar and Grill is a restaurant that is located on the pier and it serves fresh seafood, burgers and handcrafted cocktails. Enjoying an ocean view while indulging in a delicious meal is what the Cocoa Beach pier is all about!
Places to eat and drink on the Cocoa Beach Pier:
Rikki Tiki Tavern
Pelican's Bar & Grill
Keith's Oyster Bar
Sea Dogs
Cocoa Beach Surf School
Did you know that Cocoa Beach is Kelly Slater's hometown? Kelly Slater has 11 world titles and is widely considered the greatest surfer of all time.
While you may not be pulling record breaking aerial moves, you can still learn a little more about the popular sport. The Cocoa Beach Surf School offers single lessons that include all day board rental and a water safety course.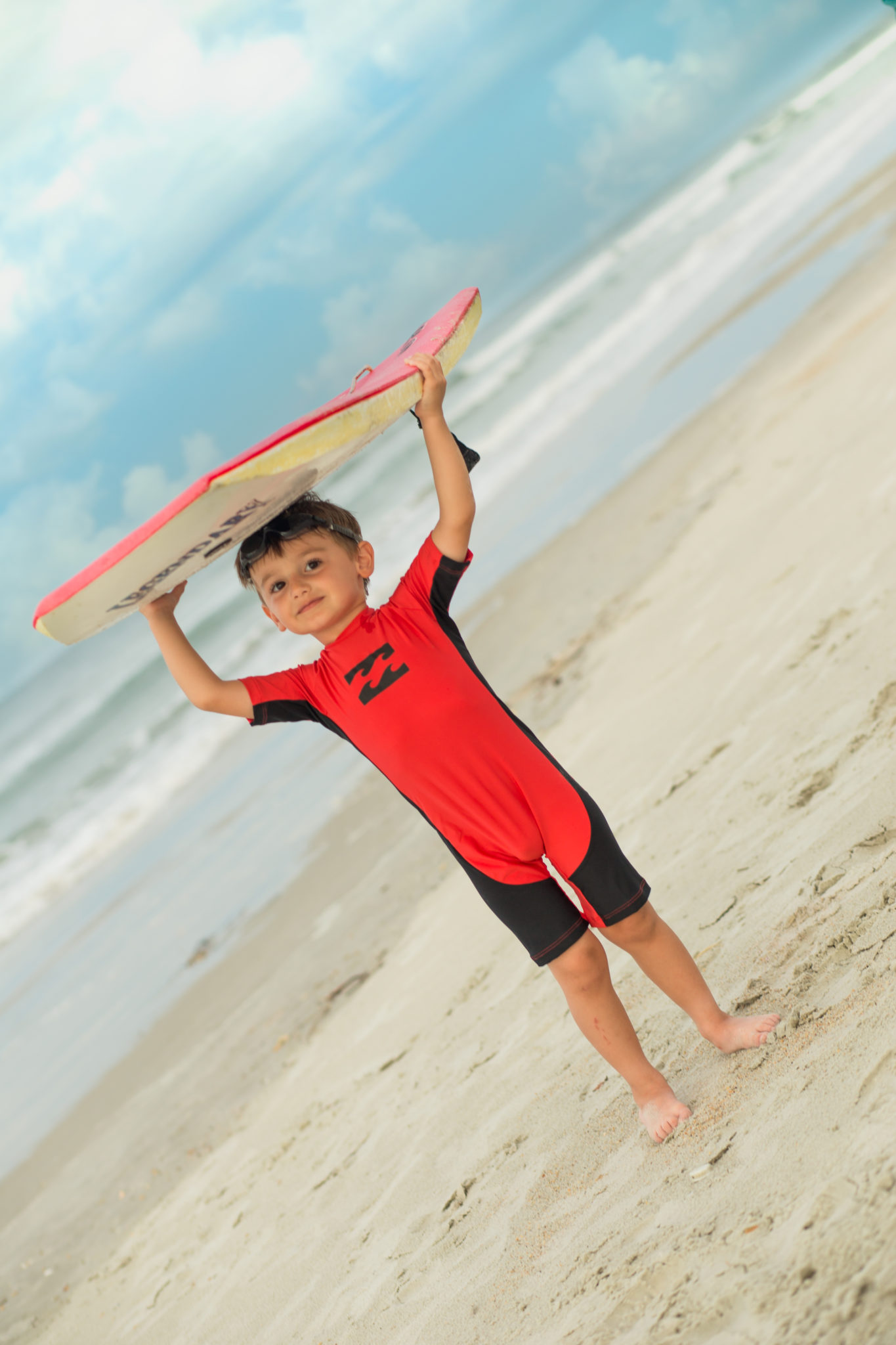 Lori Wilson Park
If you are simply looking to lounge on the beach and play in the water then Lori Wilson Park is our favorite spot. It offers free parking, restroom facilities, picnic tables and a playground. We have also written a complete post on the best beaches in Cocoa Beach.
Watch Cruise Ships
Head to Jetty Park to watch Cruise ships sail away in the evening. Ships usually depart around 4:30PM but you may want to get there early to get a good viewing spot.
You can also head to The Cove at Port Canaveral to dine at a restaurant like Fishlips or Grills and watch cruise ships. If you are disembarking from your cruise than The Cove at Port Canaveral is a fantastic way to spend an afternoon.
Ron Jon Surf Shop
If you have spent any time at all heading south on 95 then you have probably seen billboards for Ron Jon Surf Shop in Cocoa Beach. The surf shop is a fun place to stop into during your Cocoa Beach vacation because it's huge! In fact, it's the largest of its kind.
With such a rich surfing history, a trip to Cocoa Beach isn't complete without a stop into a surf shop.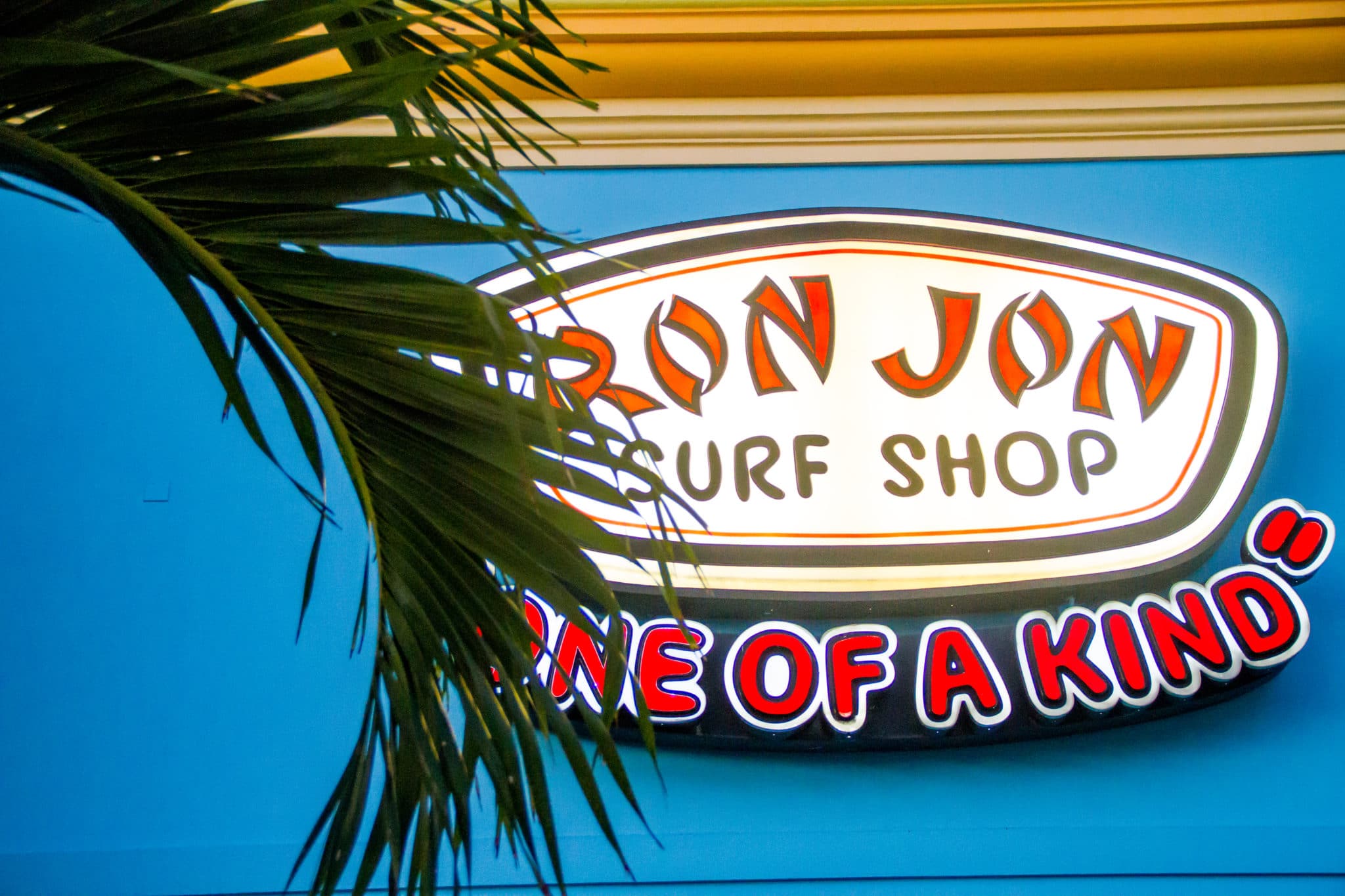 The Kennedy Space Center
The Kennedy Space Center visitor's complex is about 30 minutes away from Cocoa Beach and provides an entire day's worth of exploration and fun. Daily admission is about $60 per person and includes a bus tour of the facility. You can also add on the dine with an astronaut option or the astronaut training experience for an even more immersive experience.
Some of the attractions included in daily admission:
The U.S. Astronaut Hall of Fame
Astronaut Encounter
Rocket Garden
Heroes & Legends
Kennedy Space Center Bus Tour
Apollo 8 and the fire room
Path to the Moon
Moonscape
Exploring the Moon
and much more!
Visit their website to view the event schedule and launch schedule. Cocoa Beach is an incredible place to view launches from.
2.) Decide Where to Stay
Westgate Cocoa Beach Resort
We have stayed in the Westgate Orlando resorts on multiple occasions and LOVE Westgate resorts because of all of the amenities and the great value.
The Cocoa Beach Resort is right on the beach and offers a ton of amenities that are perfect for families:
Boat Rentals
Bike Rentals
Spa
Fitness Center
Fishing
Game Room
Mini Golf
Playground
Volleyball Court
Tennis Court
Shuffleboard
They also have an awesome pool with a lazy river, water slide, splash pad and a hot tub.
They offer 2 bedroom villas, so that the kids can have their own space. We love booking villas because we enjoy the full kitchen. Westgate resorts also offers free parking, which is a nice bonus!
Hampton Inn Cocoa Beach/Cape Canaveral
The Hampton Inn is a wonderful place to stay before your cruise because of its close proximity to Port Canaveral. The ocean views at this resort are stunning and their balconies are a great place to sip a cup of coffee while watching a vibrant east coast sunrise.
They offer free wifi, breakfast and parking in addition to being highly rated by guests – so it's a great value for a mid-range hotel.
3.) Plan Dining
Cocoa Beach has a wide array of dining options from waterfront seafood restaurants to scrumptious beachside sandwiches. I highly recommend visiting The Cove of Port Canaveral and dining at The Cocoa Beach Pier.
The top rated restaurants in Cocoa Beach are:
Florida's Fresh Grill – Seafood and Steak with delicious fresh fish
Fat Kahuna's Beachside Grille – Steak and Seafood with delicious coconut rice
Pita Paradise – Mediterranean fare serving delicious turkish coffee.
Coconuts on the Beach is a local staple serving up top notch bacon wrapped scallops