New Smyrna Beach Travel Guide
New Smyrna Beach is a charming little surf town in Central Florida. It is located about an hour and a half from Orlando but it feels so much farther away from the hustle and bustle. This New Smyrna Beach travel guide will detail what to do, where to stay and the best restaurants in New Smyrna Beach.
What is the beach like in New Smyrna Beach?  The white sandy beaches are wide and flat. The water is usually between 75-85 degrees.
The white sand is soft and cool to walk on, there aren't any high rise condos and the sand dunes are stunning.
Are there waves in New Smyrna Beach? Yes! New Smyrna Beach has consistent waves that are perfect for surfing and boogie boarding.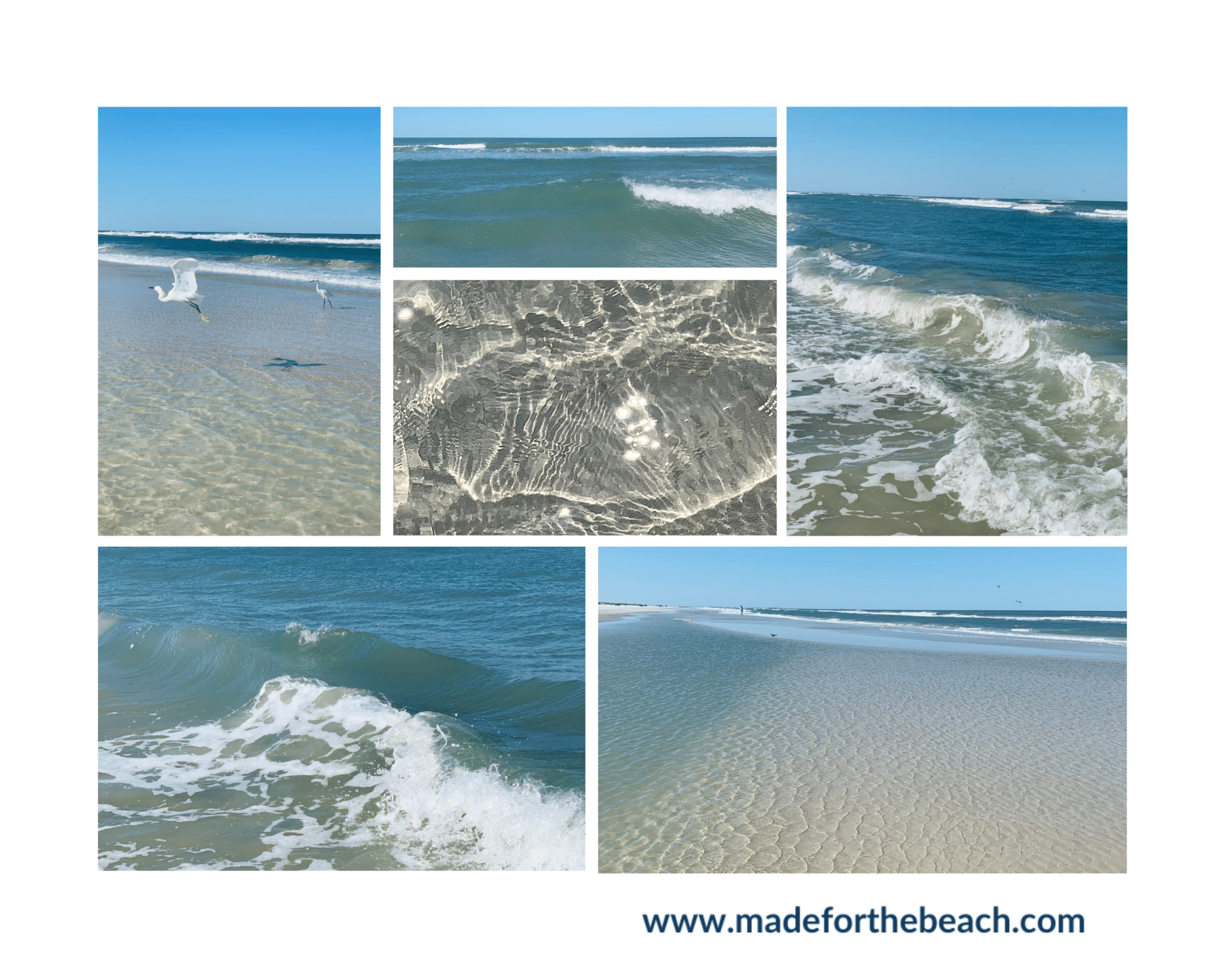 Where to Stay
New Smyrna Beach has a range of quaint bed and breakfasts, beachfront hotels and condos.
Springhill Suites New Smyrna Beach on Flagler Avenue
Hampton Inn New Smyrna Beach
Night Swan Inn
Black Dolphin Inn
Riverview Hotel on Flagler Avenue
Ocean Walk Condo Rentals
You can also find beachfront Florida vacation home rentals in New Smyrna Beach for larger groups or more privacy.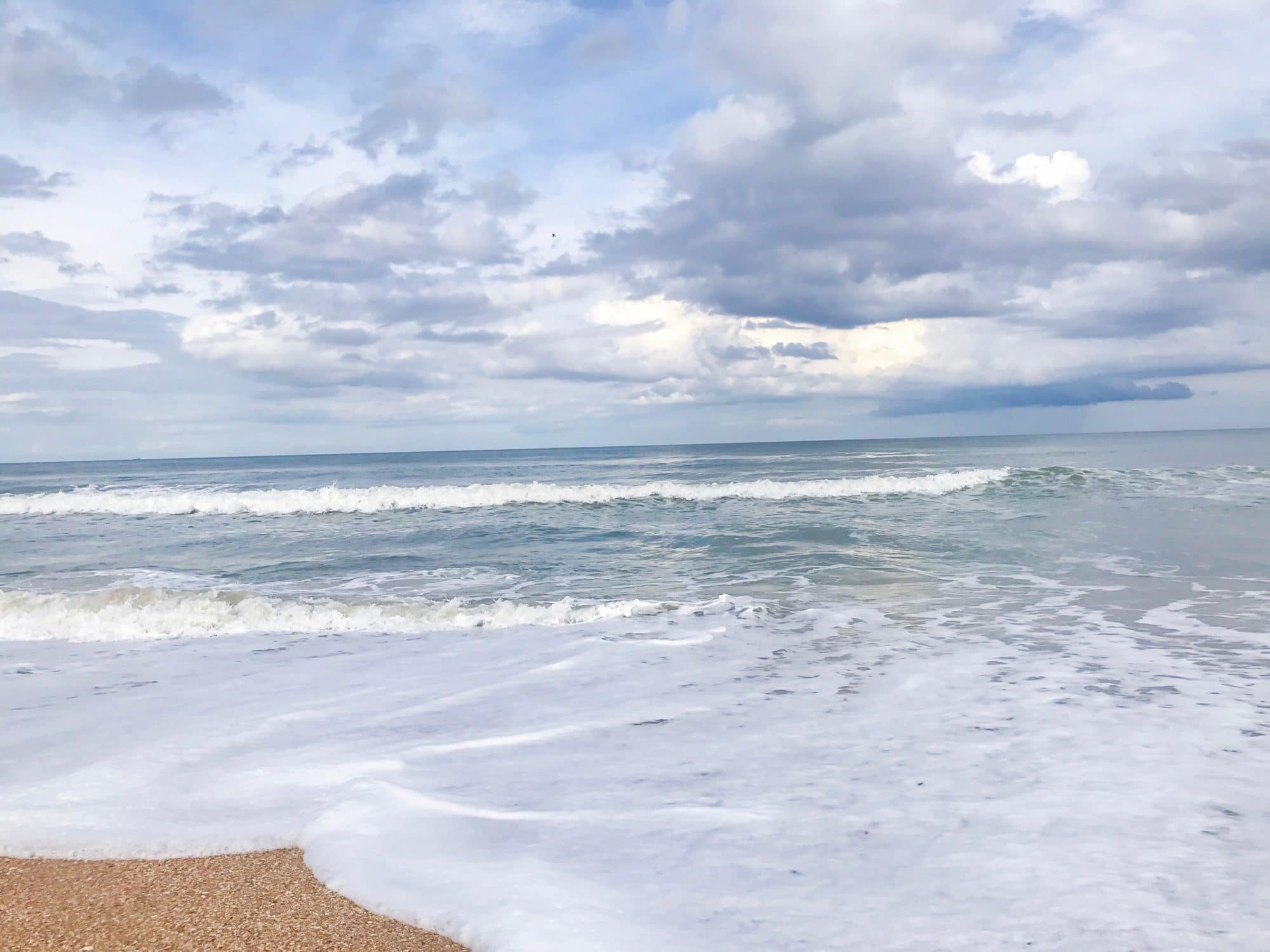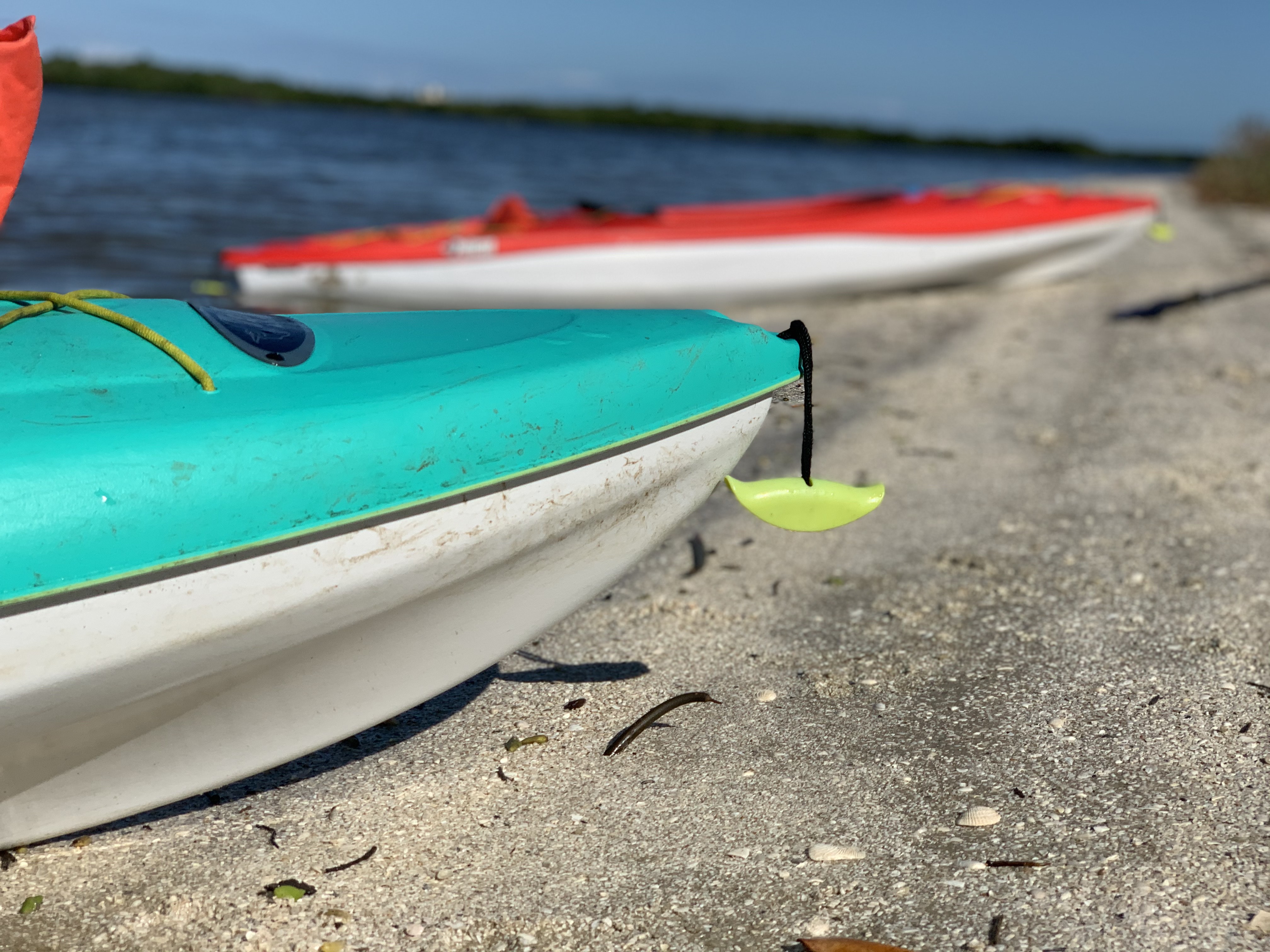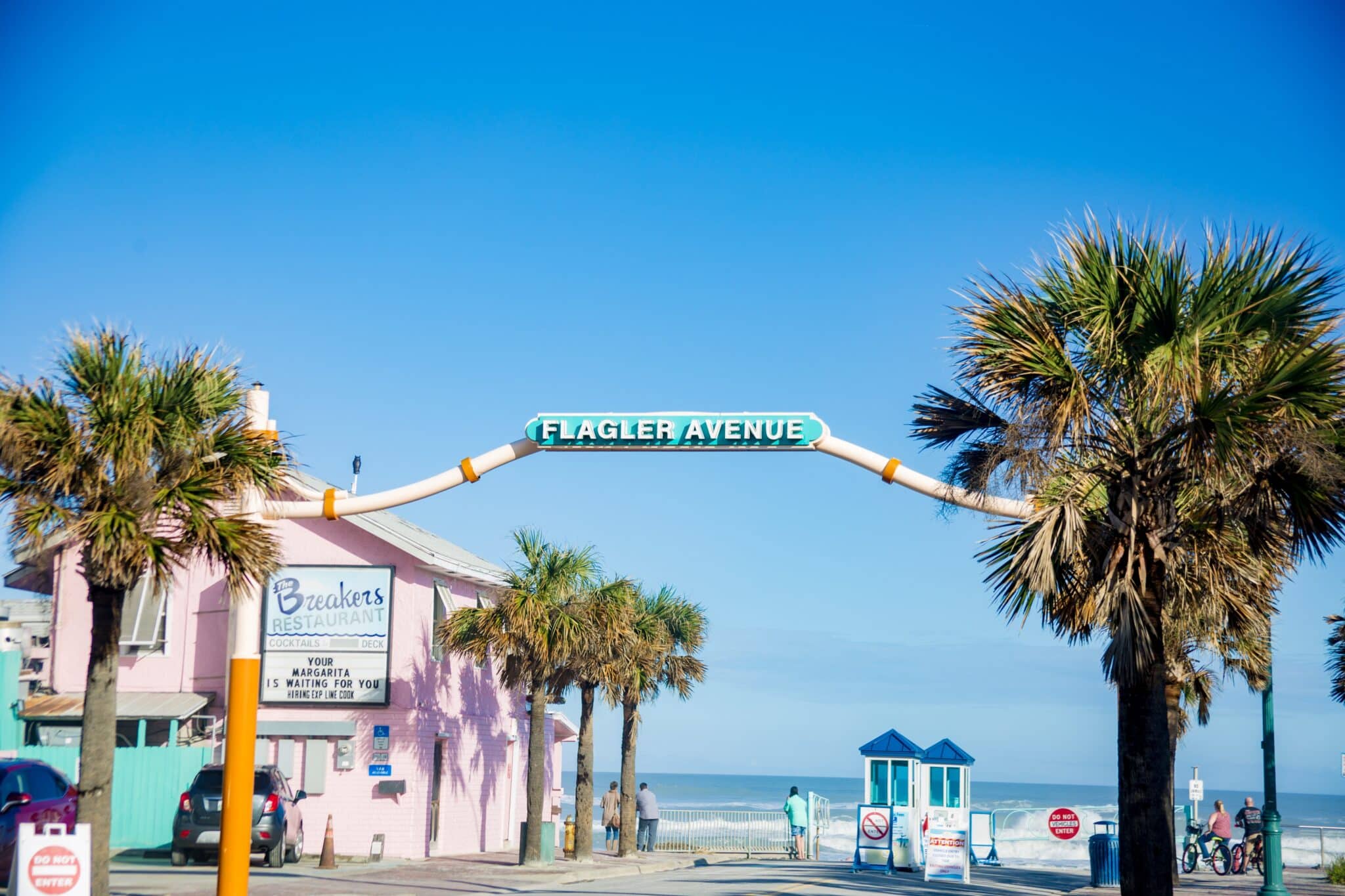 Where to Eat
New Smyrna Beach dining offers anything from local caught seafood to award winning italian dinners.
The Garlic
Norwood's Eatery and Treehouse Bar
Yellow Dog Eats
Jason's Corner
Halfwall
The Corkscrew
What to Do
New Smyrna Beach has 13 miles of white sand beaches near Orlando. One of the top surfing destinations in the country, New Smyrna Beach has a small surf town vibe. There is plenty to do and explore beyond surfing and lounging on the beach:
Kayaking
Fishing
Surfing
Shopping Canal Street
Flagler Avenue
The Hub & local art festivals
New Smyrna Beach Museum
Smyrna Dunes Park
Old Fort Park
Sugarmill Ruins
New Smyrna Beach is commonly referred to as the second oldest city in the country, behind St. Augustine. The historic roots make New Smyrna Beach the perfect destination for history buffs. New Smyrna Beach has also been voted one of the top art towns in the country and the art appreciation epicenter of NSB is at The Hub – an artist gallery and studio space that offers workshops, classes and special events. 
Public Beach access in New Smyrna Beach
Are looking for beach access in New Smyrna Beach? Below I have listed public beach access parks in New Smyrna Beach.
Can you drive your car on New Smyrna Beach? Yes! You can drive your car in New Smyrna Beach from 27th Avenue all the way down to the jetty at Smyrna Dunes Park.
If you are new to beach driving, you will want to get on at the Flagler Avenue or 27th avenue beach ramps.
If you are not looking to drive on the beach, there are plenty of great beach access spots with paid public parking.
If you are looking for New Smyrna Beach free parking, check out Bethune Beach below.
Flagler Avenue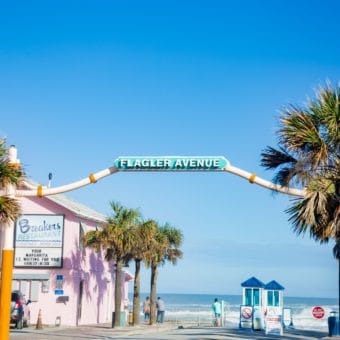 Flagler Avenue is one of the most popular New Smyrna Beach access ramps.
Located in the heart of beachside New Smyrna, Flagler Avenue is known for hosting community festivals like Wine Walk and art fairs.
You'll also find some of New Smyrna's local favorites like Beachside Candy Co, Flagler Tavern and Clancy's Cantina.
In addition to a plethora of other lovely locally owned boutiques, eateries and of course the best place to grab a burger – Breakers on the beach!
Beach Driving Access Ramp
Paid Public Parking
Restrooms & showers
Close to restaurants & Shopping
On busy days, Flagler Avenue will likely be the most crowded and you may occasionally have a hard time finding a parking spot.
Wondering how much it costs to park in New Smyrna Beach? As of 2022, Non-residents will pay $10 to park at public beach access parks and $20 to drive on the beach.
North Beach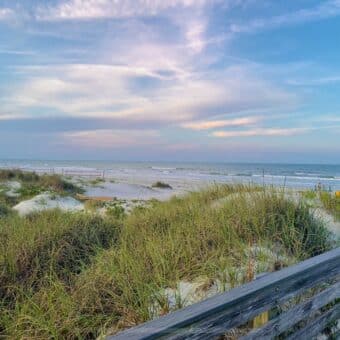 North Beach is located right down the road from Flagler Avenue. There are two parking lots and some people park in the street on busy days.
It costs $10 to park at North Beach, just like other public beach access in New Smyrna Beach.
Paid Public Parking
Restrooms & Shower
Picnic Table & Gazebo
Wooden Walkway to beach
Volley Ball Nets
I love North Beach because it is located on a more residential stretch of beach, so there aren't any towering condos.
You'll find beautiful sand dunes and sea oats at North Beach. This is a drive beach, so there will be cars driving and parked on the beach.
Located at:
1100 N. Atlantic Avenue
New Smyrna Beach, FL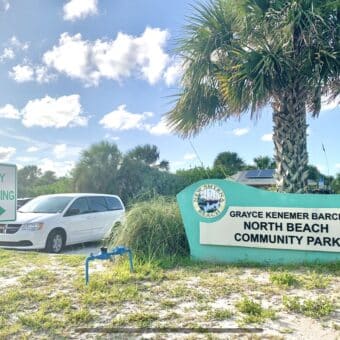 27th Avenue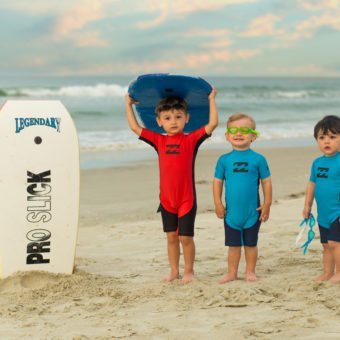 Is New Smyrna Beach Florida nice for families? Absolutely!
I always suggest 27th avenue as the best beach access for families with kids.
If you would like a no-drive beach, then you'll love 27th avenue. While there is an access ramp, there is no beach driving beyond this last entry point.
Some parents prefer the no-drive beach when they have young children in tow.
You'll also find a lovely shaded playground area with picnic tables.
There are also plenty of restrooms and showers, which is great for larger groups and families.
beach driving access ramp
restrooms & showers
playground
picnic tables
paid public parking
Esther Street Park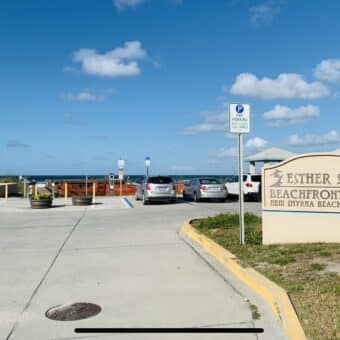 Esther Street Beachfront Park in New Smyrna Beach, FL is located just down the street from Flagler Avenue.
Paid Public Parking
Restrooms & Shower
Playground
Covered Picnic Table
Located at:
551 Esther Street
New Smyrna Beach, FL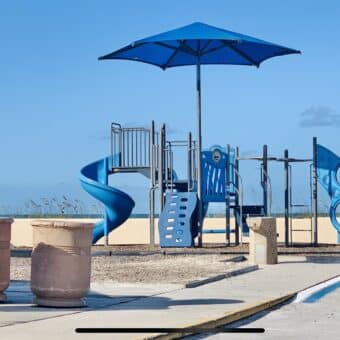 Matthew Avenue Access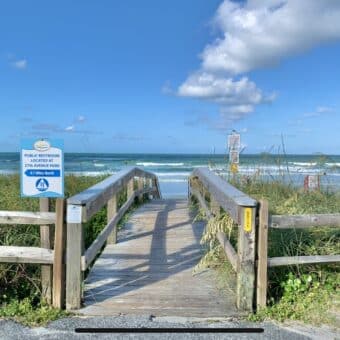 This is a simple and small beach access with a walkway to the beach.
Parking is limited and there are no restrooms, showers or additional amenities. It's a great spot for a quick trip to the beach or if you can't find parking elsewhere.
Located at:
4201 S. Atlantic Avenue
New Smyrna Beach, FL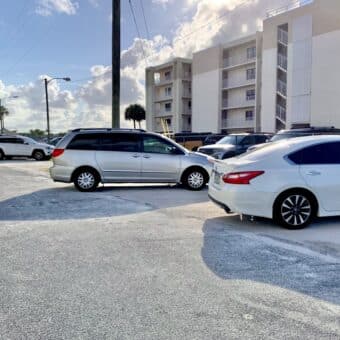 Bethune Beach Park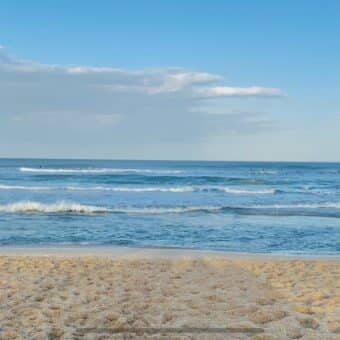 Is New Smyrna Beach parking free? No; Except for this lovely little gem, Mary Mcleod Beach Park.
Free beach access in New Smyrna Beach and great amenities:
Picnic Pavillions
Restrooms & Showers
Basketball & Volleyball courts
800′ of oceanfront sidewalk
Riverside park across the street with tennis, fishing pier and playground
Kayak Launch
Bethune Beach is tucked away about 3.5 miles south of New Smyrna Beach, closer to Canaveral National Seashore.
Located at:
6656 S. Atlantic Avenue
New Smyrna Beach, FL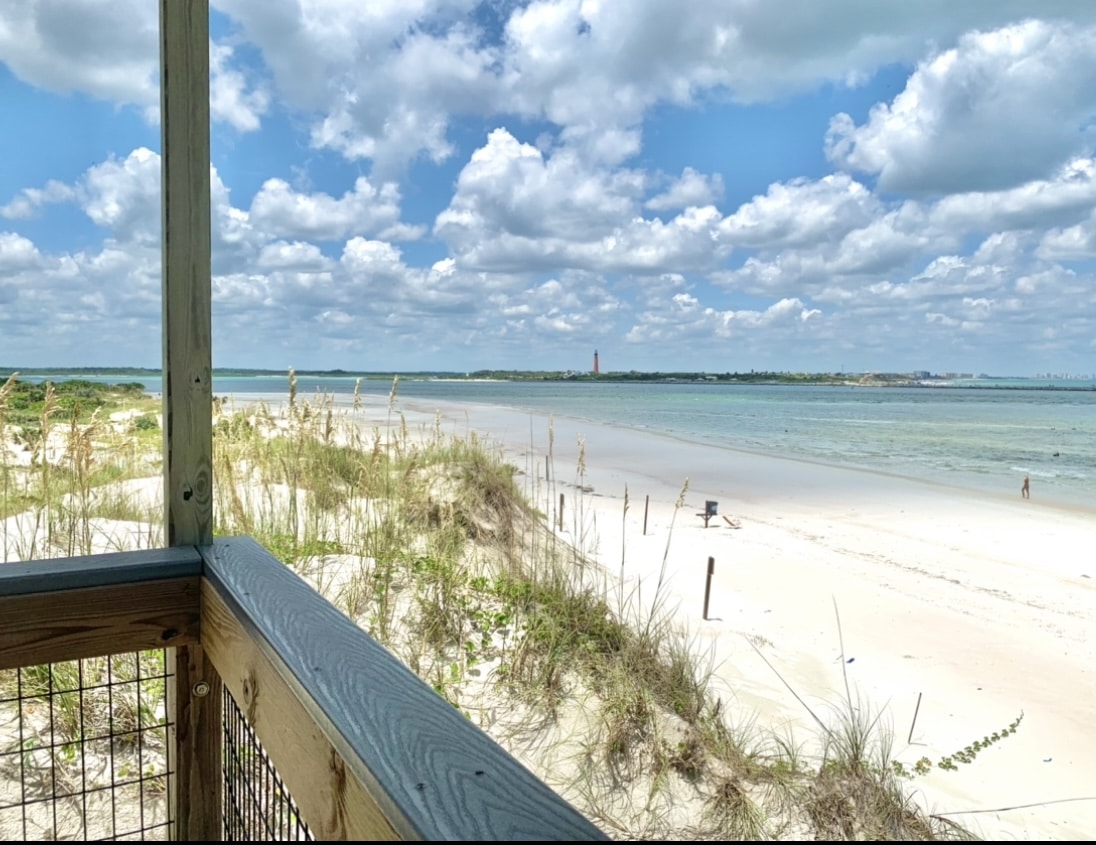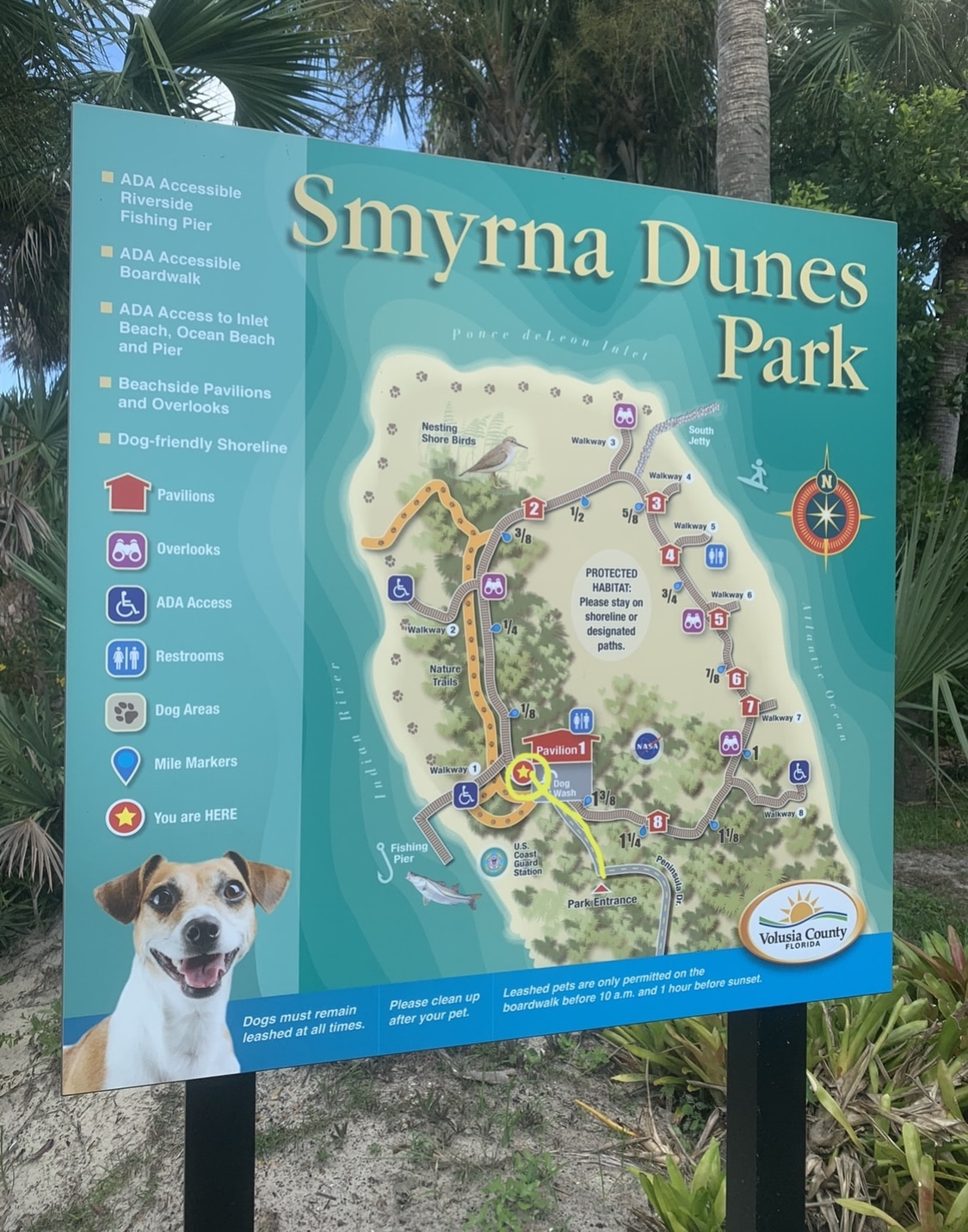 Smyrna Dunes Park
Smyrna Dunes Park is a state park located near the inlet and Jetty in New Smyrna Beach.
Does New Smyrna Beach allow dogs on the beach? Yes, leashed dogs are allowed on the beach at Smyrna Dunes Park's dog beach in New Smyrna Beach, FL.
Dog beach
fishing pier
jetty access
covered picnic tables
wooden boardwalk with observation towers
restrooms & showers
The views at Smyrna Dunes Park are arguably the most scenic views in New Smyrna Beach, FL.
You can see expansive sand dunes and coastal vegetation that is teeming with gopher tortoises, birds, bunnies, snakes and more.
Admission is $10 per vehicle and inlet park annual passes are available.